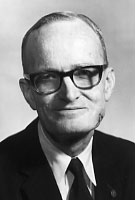 Brother Bonaventure A. Redman, MM
Born: December 21, 1905
Oath: August 30, 1937
Died: September 22, 2002
Brother Bonaventure Redman died at St. Teresa's Residence on September 22, 2002. He was 96 years old and a Maryknoll Brother for 65 years.
Lander Augustine Redman was born on December 21, 1905, in Los Angeles, California. He was the son of Alpheus Wynne and Ruth Childs Redman and he had two sisters. Brother attended Blessed Sacrament, St. Thomas Apostle and Immaculate Conception parish schools, Loyola High School, and two years of college. Then he worked several years with the First Industrial Loan Company and the Mortgage Guarantee Company before entering the Maryknoll Brothers in 1935. He took his First Oath on August 30, 1937, taking the name Bonaventure and for years has been familiarly known among his fellow Maryknollers as 'Bonnie.' He took his Perpetual Oath on September 29, 1943.
After assignments at the Venard and the Maryknoll Formation House in Brookline, Massachusetts, Brother Bonaventure was assigned to the Maryknoll Mission in Chile in 1947. He was the first Maryknoll Brother sent to Chile. He joined the priests who were running the Agricultural Trade School in Molina, located in the grape country 700 miles south of Santiago. They always had a glass of good Chilean wine at lunch and dinner because, as Bonnie always said, "a little wine is good for the stomach."
Brother Bonaventure taught Chilean history, Spanish grammar, and writing and worked in the Maryknoll office. He also supervised the dormitory for the boys who boarded at the School in Molina. Following his first Home Leave to the United States, Brother Bonaventure was assigned to the Maryknoll Mission Region in Bolivia in 1955 where he worked in the office of the Center House and Language School in Cochabamba, until 1968. His observations on mission through the years have been pithy and very up-to-date. He is quoted as observing, "Americans are very liable to say we've got so much to give to these people without thinking that they have their own history, tradition, culture and language which are precious to them. As a matter of fact, it is a two way street. We learn as much from them as they learn from us. If we fail to remember that, we won't get to first base with what we want to teach them. What is important for mission is a willingness to learn and to adapt oneself to the customs of the people to whom one is sent. A missioner must live his beliefs. Due to the sin of pride, we forget we have much to learn. If we do not adapt to their manner of thought and approach to solving problems, we might as well stay home."
On September 17, 1968 Brother Bonaventure sent a letter to the Superior General in which he wrote "Thank you very much for your note yesterday congratulating me on the approaching 25th anniversary of my Perpetual Oath on September 29 . I thank Almighty God for my vocation, and can very truthfully say that thanks to Him I have never once felt the least doubt of His Divine will for me in Maryknoll. My days and years have always been happy in the certainty that I was doing His Divine will for me. Maryknoll has always been good to me, and I have no complaints whatever to make. As God gives me strength, I hope to continue working in His service wherever my Superiors assign me until He shall be pleased to call me to my eternal reward."
Brother Bonaventure was assigned to the United States Region in May, 1969, and to the staff of St. Teresa's Residence at Maryknoll, New York. Brother was assigned to the Retirement Conununity in October 1997 but continued to be a missioner to the world through his prayer and reading.
It is important to mention that Brother Bonaventure never lost contact with his many friends in Bolivia. He used the phone to stay in touch with his friends and they with him. Brother also sponsored a Bolivian seminarian for many years who is now an ordained priest, Father Ivan Trujillo, working in Batavia, NY.
Brother Bonaventure entered Maryknoll the year before Bishop James Anthony Walsh died. He experienced the post-war vocation increase and influenced many generations of seminarians, Brothers and Priests. He was a deeply committed man and one who was not afraid to express his values and principles. He was a disciplined man, and if given the opportunity could share volumes of experience and wisdom with his fellow missioners, or anyone who was willing to learn. Another great missioner is called home to God. We will miss his presence among us.
Wake services were held at 4:30 p.m. on Friday, September 27, 2002 at St. Teresa's, where Father Thomas Ahearn officiated and Brother Charles O'Neill read the biography; and at 7:30 p.m. in Queen of Apostles Chapel at Maryknoll Center where Father Richard Smith officiated and Brother Kevin Dargan read the biography. Mass of Christian Burial was concelebrated in Queen of Apostles Chapel on Saturday, September 28, 2002 at 11:00 a.m. Father Ivan R. Trujillo was Principal Celebrant and Father John J. Moran homilist. Burial followed in Maryknoll Society Cemetery with Brother Wayne Fitzpatrick conducting the graveside service.