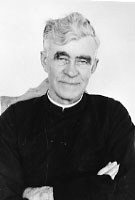 Brother Brendan McGillicuddy, MM
Born: February 28, 1887
Oath: September 14, 1930
Died: March 6, 1960
James P. McGillicuddy was born in Sneen, Co. Kerry, Ireland on February 27, 1887. He came to America in 1910 and lived in St. Mary's Parish, Newport, Rhode Island. At the outbreak of World War I he joined the American Army and saw heavy action in France with a machine-gun division, being the sole surviving officer (non-commissioned) in charge of a large unit and suffering a wound in the hand.
After the war he worked in Newport as a painter. He entered Maryknoll in October of 1923 and took the name Brendan. On September 14, 1930 he took the Perpetual Oath of the Society.He was stationed for various periods at the Venard, Bedford and the Center, where he had been since 1952.
Brother Brendan had been in poor health in the years before his death, and suffered several illnesses. He passed away on March 6th at the Phelps Memorial Hospital.
The funeral was held at Maryknoll on March 8th in conjunction with that of Brother Gerard who had died in Scranton the day previously. Burial was in the Maryknoll cemetery.