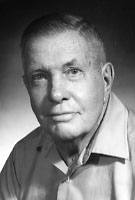 Brother Carl J. Puls, MM
Born: September 16, 1914
Oath: August 30, 1948
Died: June 17, 1995
Brother Carl Puls died the night of June 17, 1995 at St. Teresa's Residence, Maryknoll, New York. He was 80 years old and a Maryknoll Brother for 47 years.
Brother Carl was born William John Puls in Cincinnati, Ohio, on September 16, 1914, the son of John E. Puls and Caroline Wehrle Puls. He had three brothers and four sisters, one of whom was Sister Carolyn Puts, M.M. He was educated in Catholic Grammar School in Cincinnati, graduated from Roger Bacon High School in 1932 and then attended Western Hills for two years. In 1941, he was drafted into the U.S. Army and assigned to the Army Medical Corps.
William was sent to Letterman General Hospital in the Presidio in San Francisco to take a one year crash course under teachers from Iowa State Teachers College of Pharmacology and became a full-fledged Pharmacist. He was the Chief Pharmacist in a 1500 bed Evacuation Hospital Unit and served in India, Burma and China during World War II. After his honorable discharge from the Service in 1945, he worked as a mail carrier for the U.S. Post Office for about a year before entering the Maryknoll Society as a Brother Candidate on November 4,1946. He wrote later that, having learned about Maryknoll from his sister, Sister Mary Carolyn, and the Maryknoll magazine and having seen the work of missionaries in the Pacific during the war, and how many more were needed, he was prompted to join Maryknoll as a Brother. He took his First Oath of Obedience on August 30, 1948 and took the Religious name of Brother Carl. Having pronounced his Final Oath on August 31, 1951, he was assigned to Maryknoll Junior College (Venard), Clarks Summit, Pennsylvania, where he worked in the boiler room and in general maintenance throughout the property.
On April 26, 1953, Brother Carl was assigned to the Maryknoll Mission Region of Guatemala, Central America, where he served for twenty-six years. During those years, he rebuilt old rectories, brought water into the towns, rectories and Sisters convents from nearby rivers, waterfalls and wells. He started and successfully operated an agricultural school in Huehuetenango – the Center of the Maryknoll Guatemala Region – to teach the native population better farming methods. He also started a Medical Warehouse to buy medicines from all over the world and resell them to the clinics and hospitals in Huehuetenango and El Salvador. In a period of 14 years, he sold over one million dollars worth of medicines, charging only one cent on the dollar for administrative costs, such as shipping, rent, etc. He turned everything over to the Bishop of Huehuetenango, Bishop Victor Hugo Martinez, when he was assigned to the United states on January 15, 1981 and enrolled in the Special Society Unit. He spent a few months in the Houston Texas Development House and then took up residence at Maryknoll Center, New York. In May 1995, he was transferred to St. Teresa's Residence at Maryknoll, New York.
One of his Superiors at the Venard wrote of him: "Brother Carl is thoroughly reliable, efficient and highly competent in any and all duties assigned him. He possesses a sense of responsibility coupled with a most favorable spirit of generosity. He is an asset not only to the Venard but to Maryknoll and the Brothers' Community."
These sentiments were repeated in Huehuetenango, Guatemala, at the time of his twenty-fifth anniversary celebration as a Maryknoll Brother. And Bishop Hugo Gerbermann, M.M., then Bishop of the Diocese, added: "We think of Brother Carl as a man of God – a man of God first, middle, last and always. He was a genuine friend of the poor. Only the Golden Book of Life can record his numberless kindnesses, helps and unstinting self-givings. Legion is the number of poor I have met throughout the diocese who were helped by Brother Carl."
In a farewell message to Brother Carl when he left Guatemala, the Sisters of Charity of the Divine Word in Huehuetenango wrote, in part: "Even though you will be gone from our midst, we will constantly be seeing the fruits of your missionary labors here", and, "we only hope that some day we too will be able to say, like you, that we have left something of ourselves here for posterity."
During his retirement years at Maryknoll Center, Brother Carl, known as 'old Sarge' for his Army days, and generally puffing on one of his favorite pipes, was never at a loss to recount experiences of his life – both in the Army and particularly in Guatemala. Up until his last months, he maintained his lifelong interest in plants, trees and other growing things, often making cuttings and setting out seedlings in various parts of the property.
Wake Services were held on Tuesday evening, June 20, 1995 in the St.Teresa's Residence Chapel and in Our Lady Queen of Apostles Chapel where Fr. Richard Callahan presided and Bro. Eugene Casper read the Biography Letter. Fr. James Scanlon was principal celebrant and Fr. William Donnelly was homilist at the concelebrated Mass in the Queen of Apostles Chapel at Maryknoll, New York, the following day, June 21st. Graveside services were conducted by Bro. Wayne Ftizpatrick in the Maryknoll Society Cemetery at the Center.