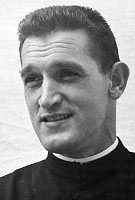 Brother Carleton J. Bourgoin, MM
Born: November 17, 1921
Oath: June 29, 1955
Died: May 12, 2005
Brother Carleton Bourgoin died on May 12, 2005 at St. Teresa's Residence. He was 83 years old and a Maryknoll brother for 49 years.
Carleton James Bourgoin was born on November 17, 1921, in Salem, Massachusetts, son of Rene and Lena Huard Bourgoin. He had three brothers and three sisters. He attended Horace Mann Training School and Salem High School, graduating in 1939. He was an apprentice draftsman for one year and attended a six-month radio technician course while serving in the U.S. Coast Guard at Manhattan Beach Station in Brooklyn, New York from 1942 to1944, when he was discharged as a Radio Technician 3rd Class. He held several jobs, and served in the Merchant Marine prior to joining Maryknoll in December 1953. He took his first oath to the Society on June 29, 1955, taking the Religious Name of Brother Miles.
He pronounced his Permanent Oath on June 13, 1958, at Maryknoll College, Glen Ellyn, Illinois. His Superior there noted that "Brother Miles is a jack of all trades and master of many, a pianist, artist, and all-around handyman full of ideas." Brother Miles was assigned to the Maryknoll Mission in Musoma, Tanzania, where he worked for 14 years as a carpenter, auto mechanic, electrician, bookkeeper, engine repairman, maintenance man and cook. On May 7, 1964 he changed his name back to his baptismal name of Brother Carleton.
Following a short period of study at The Art Institute in Boston, Brother was assigned again to Maryknoll Physical Plant in New York. In 1975 he was assigned to Western Samoa to help develop the Society's new mission there. Staffed by seven Brothers, the Samoa mission was the first Maryknoll mission ever to be run completely by Brothers. In 1978, Brother Carl returned to the United States for health reasons. In 1981, he was assigned to the U.S. Region and the Maryknoll Center in New York, where he worked in Center Services in the Physical Plant Department.
Brother Carl entered the Special Society Unit in December 1986, with continued residence and service at Maryknoll Center, including helping out in the Council Secretariat. Throughout the years Brother Carleton pursued his hobbies of tennis and artistic painting, which brought him much joy and relaxation. He was able to sell a number of his paintings, and others he gave away as gifts. A great number of his paintings hung in the halls of St. Teresa's. It was Bro. Carl's custom, while living at St. Teresa's, to play the community piano before lunch for all to enjoy. He was an accomplished musician on the piano and keyboard.
Wake services were held at 4:30 p.m. on May 16, 2005 at St. Teresa's, with Father Thomas Ahearn officiating, and at 7:30 p.m. in Queen of Apostles Chapel at Maryknoll Center where Brother Wayne Fitzpatrick officiated and Brother Donald Miriani read the biography. Mass of Christian Burial was concelebrated in Queen of Apostles Chapel on May 17, 2005 at 11:00 a.m. Father John Ganly was Principal Celebrant and Father Carroll Houle homilist. Burial followed in Maryknoll Society Cemetery with Father Francis McGourn conducting the graveside service.