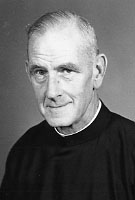 Brother Charles Fowley, MM
Born: August 31, 1899
Oath: September 11, 1930
Died: August 30, 1980
Brother Charles (James C.) Fowley died at St. Teresa's Residence on August 30, 1980, the day before his eighty-first birthday, two months after celebrating his Golden Jubilee.
Born James Charles Fowley, in Brooklyn, N.Y. on August 31, 1899, Charlie was one of the two sons and four daughters of Daniel Fowley and Bridget Connor. Of his early years Charlie wrote: "At home my parents asked God for help, and thanked God for knowing Him, and urged us children to make a sacrifice every so often to God for knowing Him, and to remember that many people never heard about God. The big question to me at this time was why I should be inside this Paradise with so many others on the outside. At the end of the eighth grade I decided I wanted to be a Brother and offer my services to God. After one year of high school, due to financial conditions at home I had to go to work to help support the family."
Charles worked as an office and shipping clerk for four years before entering Maryknoll on January 16, 1921, where he began his truly extraordinary career as a Brother. It can honestly be said that there are few Maryknollers who did not know him well – and that all who knew him not only loved him but are in his debt because of his example. Through the fifty-nine years of his life with Maryknoll not one adverse criticism of Charlie was recorded. Indeed, he was most often spoken of as the ideal: in community, in poverty, in responsibility – and in his love for Maryknoll.
From 1924 until 1943 he was assigned to the West Coast, in Seattle and Los Angeles. The Japanese children there with whom he was so deeply involved wrote: "We think he is a great leader of men by his virtue and very kind heart." In addressing the dislocation of the Japanese during World War II, Bishop James E. Walsh wrote in part to Charlie: "One great incentive that has nerved you to give your best to the present task is undoubtedly the conviction that this dislocation of our good people with its attendant problems has presented Maryknoll with one of the great mission opportunities of this generation. We wish you to know that we completely share this conviction with you… that the very essence of mission work consists in helping a needy people when they are most in need."
In 1943 Charlie was assigned to the Center, where he devoted himself to getting shipments to the missions, always working to enable others to work better. He was seen as "a wonderful Maryknoller and a source of edification. He is open to new and old." He entered the Special Society Unit in July, 1979. According to practice, the Golden Jubilee for Brothers is celebrated dating from their first Oath, but there was no Oath until 1930 so Charlie celebrated his Jubilee nine years late.
There was a Wake Service on September 2nd at the Seminary Chapel, conducted by Fr. John Halbert, Vicar General. Mass of the Resurrection was celebrated the following day with Father James Weckesser as Principal Celebrant; Brother Justin Joyce as Homilist, and biography by Father William R. McCarthy. Burial followed in the Maryknoll cemetery, where graveside services were conducted by Father Eugene Toland.
In 1979 Charlie was requested by the General Council to serve as Consultor on the Formation of those young men who come to follow in the footsteps of Brothers like yourself in Maryknoll.