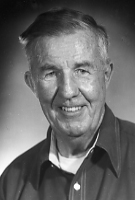 Brother Charles Heschele, MM
Born: March 20, 1920
Oath: July 29, 1948
Died: June 16, 2007
Brother Charles Heschele died at St. Teresa's Residence on June 16, 2007. He was 87 years old and a Maryknoll Brother for 58 years.
Charles Heschele was born on March 20, 1920 in San Francisco, California, son of Goethe and Johanna Dorwaldt Heschele. He had three brothers and one sister. Charles attended St. Boniface grammar school and Sacred Heart High School in San Francisco. Brother Charles originally entered Maryknoll Junior Seminary at Los Altos, California as a priesthood candidate in September 1939, and after advancing through the Maryknoll Seminaries to third year theology, he decided to withdraw from priesthood candidacy. However, he joined the Maryknoll Brothers in April of 1947, pronouncing his First Temporary Oath on July 29, 1948 and taking the religious name of Brother Camillus. Brother Camillus took his Perpetual Oath on June 29, 1951. In 1964 he changed his name back to Charles.
Brother was assigned to the Bolivia Region and served as procurator in Riberalta, in the Pando Vicariate. In 1960 he went to Montero, Santa Cruz, Bolivia where he taught English and Religion and worked in three separate colonies with Japanese refugees from the island of Okinawa. Four years later he was assigned to Cochabamba as the Regional mission procurator and bookkeeper and he also worked at the Language School helping to prepare new missioners for work in South America. During his last years in Bolivia, Brother worked in Parroquia San Roque and Parroquia Virgen del Rosario, in Santa Cruz. Apart from a return to the United States to attend the Mission Institute and Renewal program, Brother Charles spent over 45 years in Bolivia.
Brother Charles returned to the United States in late 1994 and in March 1995, was assigned to the Special Society Unit. He resided at the Center until July 1995 when he took up residence at Los Altos, California. Brother moved to St. Teresa's Residence in February 2002.
Wake services were held at 4:30 p.m. on June 19, 2007 at St. Teresa's and at 7:30 p.m. in Queen of Apostles Chapel at Maryknoll Center where Brother Kevin Dargan officiated and Brother Mark Huntington read the biography. Mass of Christian Burial was concelebrated in Queen of Apostles Chapel on June 20, 2007 at 11:00 a.m. Father Francis Higdon was Principal Celebrant and Father Denis Browne homilist. Burial followed in Maryknoll Society Cemetery with Father Francis McGourn conducting the graveside service. A Memorial Mass for Brother Charles was held at Los Altos Residence on Saturday, June 30, 2007 at 11:00 a.m. Father Edward 'Lou' Quinn, M.M. was Principal Celebrant and Homilist.