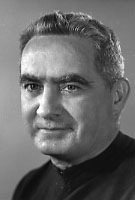 Brother Charles S. O'Neil, MM
Born: October 8, 1916
Oath: June 29, 1950
Died: December 6, 2007
Brother Charles S. O'Neil died on December 6, 2007, at St. Teresa's Residence, Maryknoll, New York. He was 91 years old and a Maryknoll Brother for 57 years.
Charles Sylvester O'Neil, one of seven children born to John and Mary DuPont O'Neil, was born in Brooklyn, New York, on October 8, 1916. He attended St. Mary, Gate of Heaven Parochial School and graduated from Chaminade High School in Mineola, Long Island, New York and earned a B.B.A. from St. John's University, Brooklyn, New York. Charles served in the U. S. Army for five years, being drafted into the Federalized 212th Anti-aircraft Regiment (Nicknamed the 'Dirty Dozen') composed of men from Hell's Kitchen and the Chelsea Sections of Manhattan, New York. After five years he was honorably discharged as a 1st Lieutenant in March 1946. He worked for two years for an accounting concern before entering the Maryknoll Brothers Novitiate at Akron, Ohio, on December 31, 1948. On June 29, 1950 he pronounced his First Oath of Allegiance, taking the Religious Name of Brother Sylvester.
With his knowledge of accounting and bookkeeping, in 1950, Brother Sylvester was assigned to serve in the Procurator's Office at Maryknoll, New York, for three years, and then transferred to the business office at Maryknoll College, Glen Ellyn, Illinois.
On May 21, 1955 Brother Sylvester was assigned to Maryknoll's Mission Region in Chile, South America. After language studies in Arequipa, Peru, where he did well, he went to Escuela Gonzalo Correat, a boarding school for poor farm boys in Molina, Chile, for teaching and administrative work. Next he served as financial assistant to the Regional Superior in Santiago, Chile. In 1961 he was assigned to Parroquia La Asuncion in Talcahuano where he taught mathematics and religion in the parish high school, and then became the Principal of Liceo La Asuncion for seven years. In 1968 he changed his name back to his baptismal name, Brother Charles. In 1971 Brother became the Coordinator of all the thirteen Maryknoll Schools in Chile and the following year served again as the financial assistant to the Regional Superior. While in education in Chile he also served as National Treasurer of Fide Tecnica (National Association of Private Technical Schools) and Regional Vice President of Fide Secundaria (National Association of private secondary academic schools).
Brother Charles was assigned to the United States effective July 1, 1975 and appointed as Society Internal Auditor, the Society Budget Director, and a Society representative on the Central Salaried Board. He is credited with putting in a unified accounting system in the Mission Areas so that the Mission Regions were incorporated into the Audit Program of Price Waterhouse, who were Maryknoll's external auditor at the time. After completing his work at the Center, Brother Charles briefly served in Bolivia, but returned to the Center in early 1981 and on August 1, 1982, at age 66, was enrolled in the Special Society Unit. From 1983 to 1985, Brother spent time in Bolivia (for school work) and did special financial work for the Regional Superior of Chile and organized an alumni association for Liceo La Asuncion. In August of 1985 he returned to the United States and worked at St. Francis Xavier Mission school in Los Angeles, CA, serving as principal for one year. Brother Charles spent a year working in Mexico and in 1991 took up residence at Los Altos, California. In 1994, Brother moved to Old Bridge, New Jersey where he lived with his older sister. He participated in the 'Home-Bound' program of St. Thomas the Apostle Church and was a Eucharistic Minister there. Brother was assigned to the Retirement Community in February 2001 and upon the death of his sister in early May 2001, moved to Mission St. Teresa.
Wake services were held at 4:30 p.m. on December 10, 2007 at St. Teresa's, and at 7:30 p.m.in Queen of Apostles Chapel at Maryknoll Center where Brother John Blazo officiated and Father Ernest Lukaschek read the biography. Mass of Christian Burial was concelebrated in Queen of Apostles Chapel on December 11, 2007 at 11:00 a.m. Father Robert Reiley was Principal Celebrant and homilist. Burial followed in Maryknoll Society Cemetery with Brother Wayne Fitzpatrick conducting the graveside service.