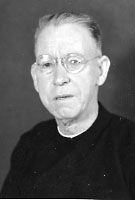 Brother Christopher O'Leary, MM
Born: August 24, 1895
Oath: August 14, 1930
Died: December 23, 1973
Brother Christopher O'Leary died at St.Teresa's. He was 78 years old.
Born John J. O'Leary on August 24, 1895 in Cambridge, Massachusetts, he attended school at St. Paul's Parish there and worked at various jobs in the area before deciding to apply for entrance to Maryknoll as a Brother. He was accepted in September of 1922 and took his Perpetual Oath on August 14, 1930.
Brother Christopher served Maryknoll faithfully for over 50 years. He never received an overseas assignment but worked in several of our houses: Los Altos, the Venard, Bedford, Hingham.
Brother was a fine Procurator in the various houses to which he was assigned and an example of deep personal commitment to all with whom he came in contact. His way was quiet, genial and uncomplaining and he was deeply admired by the many generations of Maryknollers who met him over the past five decades.
A Vigil Service was held for Brother Christopher at 7:30 p.m. on December 26th in St. Teresa's Chapel. Mass of the Resurrection followed the next day and burial was in the Maryknoll Cemetery.