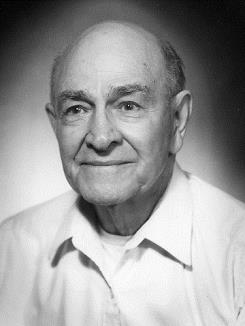 Brother Conrad J. Fleisch, MM
Born: May 13, 1911
Oath: August 30, 1948
Died: December 5, 2014
Brother Conrad J. Fleisch died on December 5, 2014 at Mission St. Teresa's, Maryknoll, New York. He was 103 years old and a Maryknoll Brother for 66 years.
George Joseph Fleisch was born on May 13, 1911 in Topeka, Kansas, son of Charles and Eleanor Wingert Fleisch.  He had two brothers and three sisters.  He attended Holy Name Grade School and graduated from Topeka Catholic High School.  After working for twelve years in various jobs, George joined the U.S. Navy in 1942 and was Honorably Discharged in October 1945.  He entered Maryknoll at Akron, Ohio on January 11, 1947 and pronounced his First Oath of Obedience on August 30, 1948, choosing the Religious name of Conrad.  One of his superiors wrote of Brother, "He has a beautiful disposition and is a fervent religious."
Brother Conrad served at Maryknoll College, Lakewood, New Jersey from 1948 to 1951 when he was assigned to Minneapolis to study courses in general mechanics.  He proved to be an excellent student and applied himself far beyond the requirements.  After this schooling, he went to Maryknoll Junior Seminary, Clarks Summit, Pennsylvania for eight months and then in 1954 was assigned to Maryknoll Center as Plant Manager and Chief Engineer.  He was transferred four years later to Maryknoll College, Glen Ellyn, Illinois and served there until the college was closed.  He also served in the Los Angeles Development House for four years, after which he served as Plant Manager at Maryknoll Novitiate, Hingham, Massachusetts until it closed.
Brother Conrad's work as Plant Manager and Chief Engineer at various Society properties throughout his life provided invaluable service to the Society, not only in his concern for the best interests of the Society, but also in the financial savings that resulted from his being in those positions.  His work was always highly appreciated by the Superiors he worked with.
In December 1982 Brother Conrad moved to the Maryknoll Residence in Los Altos, California and in March 1984 was enrolled in the Special Society Unit.
On June 1, 1995 Brother was presented with a Mission Cross at the Mission Recognition Ceremony at Maryknoll, New York.  He was assigned to the Retirement Community in February 2001 and resided at St. Teresa's Residence.
On May 13, 2011 Brother Conrad celebrated his 100th birthday, becoming the first Maryknoll Society member to reach this milestone.  In reflecting upon his many years with Maryknoll at that time, he said that although he did not serve overseas, he always felt that he was just as much a missioner serving in the States.  "In any organization, every person is important," he explains.  "I was contributing to the organization by doing what I do best."
Wake services were held at 4:00 p.m. on December 14, 2014 at St. Teresa's.  Brother Fleisch's family received condolences and prayers at 9:30 a.m. on December 15, 2014 in the Lady Chapel.  A Mass of Christian Burial was concelebrated in Queen of Apostles Chapel on December 15, 2014 at 11:00 a.m.  Father Emile E. Dumas was Principal Celebrant and homilist.  Burial followed in Maryknoll Society Cemetery with Father Russell J. Feldmeier conducting the graveside service.