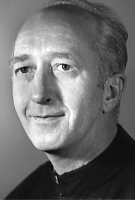 Brother Cornelius Christie, MM
Born: January 20, 1915
Oath: September 29, 1939
Died: April 7, 1983
During this Easter Season, when we are rejoicing in the Risen Christ, the significance of this glorious season has become a clearer reality in our own Maryknoll lives, through the recent death of Brother Cornelius Christie, who has now had his own personal resurrection with the Risen Savior.
On the morning of April 7, he suddenly became ill. Father  Richard Hochwalt anointed him. Paramedics and Father Joseph Picardi did all that was possible to keep Brother alive. He died on his way to Phelps Memorial Hospital.
Brother was born in Downfield, Scotland on January 20, 1915 to David and Helen Christie. His family moved to Connecticut and at the age of twenty-one he became a convert to the Catholic faith. Because of this decision to become a Catholic he suffered deeply due to the fact that he was then requested to leave his family home.
Before entering Maryknoll to join the Auxiliary Brothers of St. Michael in February, 1938, he finished Technical High School in Waterbury, Conn., worked for a while in a factory, and had been a clerk in the retail department of a drug store. At the time of his entrance a Father Tewling, who was instrumental in directing Brother to Maryknoll, as well as other candidates, wrote this about him to Father O'Shea: "I really think you are getting a very unusual subject. His faith has become so great a gift to him that this complete surrender of himself to be an instrument in God's good hands has been a spontaneous and a vivid thing. I think you will find real depth of character and prayerfulness of more than a passing sentimental nature."
In 1946 Brother Cornelius was assigned to Mexico. He was stationed in the Merida Center House where he became the bookkeeper and procurator of the Yucatan Mission. He also managed the normal operations of the Merida house. While he was there he took a special interest in the sick and poor. Brother was very generous with his time and dedicated himself in helping poverty-stricken families in Merida. He accomplished a commendable work in distributing relief goods from the National Catholic Welfare Conference to the poor. Through this and through his love for the unfortunate, he had a tremendous impact on the people in Yucatan.
In 1961 he was recalled to the States because of ill health. During the past few years Brother had been working with Father Eugene Higgins in the Mission Overseas Extension Service and with the Mission Research and Planning Department.
The Wake Service took place on Sunday, April 10th, at 7:30 p.m. Father Edward Manning officiated. Biography was read by Brother Louis Uttendorfer. Mass of Christian Burial was celebrated the following day at 11:45 a.m. with Father Michael McKenna as principal celebrant and Homily by Father Joseph Rickert.
We share with the Maryknoll Community, and especially the Brothers, the hope that Brother Cornelius is now with the Risen Christ.