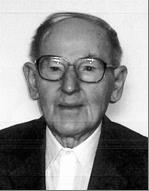 Brother Cyril L. Vellicig, MM
Born: January 28, 1922 Oath: June 29, 1951 Died: January 20, 2018
Brother Cyril L. Vellicig died on January 20, 2018 at Mission St. Teresa's.  He was 95 years old and a Maryknoll Brother for 66 years.
Cyril Louis Vellicig was born on January 28, 1922 in Indianapolis, Indiana, son of James and Louise Kodramaz Vellicig.  Cyril attended St. Vitus Parochial School, East Madison Elementary School, and East Technical High School, all in Cleveland, Ohio.  He was a veteran of World War II, serving in the U.S. Army from 1944-1946, with the 46th Medical Depot Company in France and Germany.  He was honorably discharged in May 1946 as a Technician 4th Grade.
Cyril entered Maryknoll on October 22, 1949 at the Maryknoll Brothers Postulancy at Maryknoll, New York.  His Novitiate year was spent in Akron, Ohio ending in June 1951.  He took his First Oath on June 29, 1951.  Afterwards he was assigned to the St. Louis Development House to serve in the promotion office and as a bus driver for Maryknoll students studying in Maryknoll's small seminary in St. Louis.  In May 1954, he was transferred to Maryknoll, New York and served there for one year.
In May 1955, Brother Cyril was assigned to the Maryknoll Mission Region in Tanzania, and he served most of his mission career in the Maswa-Shinyanga area.  In 1961, he worked as procurator for eight months at the Maryknoll Center House in Nairobi, and then eighteen months at the Maryknoll Language School in Musoma, Tanzania.  Until 1975, most of his work was devoted to constructing and maintaining mission buildings throughout the Diocese of Shinyanga.  As the mission supervisor of construction, he made a big contribution to the growth of the Tanzania Mission Region.
In 1978, Brother Cyril was appointed Shinyanga Diocese Treasurer, while also looking after the Center House for Maryknoll and Diocesan visitors.  Brother Cyril continued serving in Tanzania at the Buhangija Catholic Church in Shinyanga even after retiring in September 2002.
Brother Cyril remained serving the people of Africa until he entered the Senior Missioner Community in June 2006.  He returned to the United States and moved to the Maryknoll Residence in Los Altos, California.  In March 2016, Brother Cyril took up residence at Mission St. Teresa's, Maryknoll, New York.  In June 2016, he celebrated his 65th Jubilee as a Maryknoll Brother.
A Rosary and wake service was held at 4:00 p.m. on February 12, 2018 at Mission St. Teresa's.  The Rite of Reception took place at the Maryknoll Society Center at 9:30 a.m. on February 13, 2018.  Prayers were offered in the Lady Chapel until 10:45 a.m.  The biography was read by Father Leo Kennedy.  Mass of Christian Burial followed at 11:00 a.m. and was concelebrated in Queen of Apostles Chapel.  Father Michael Snyder was Principal Celebrant and Father Daniel Ohmann was homilist.  According to his wishes, Brother Cyril was placed in the Columbarium at Maryknoll, New York.