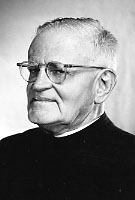 Brother Daniel Doherty, MM
Born: August 24, 1885
Oath: September 14, 1930.
Died: April 23, 1974
Brother Daniel Doherty died at St. Teresa's Residence, Tuesday evening, April 23, after a long illness.
Brother Daniel (Fred J. Doherty) was born in Dorchester, Massachusetts, August 24, 1885. He studied at Boston Latin School and graduated from Harvard College in 1908. Brother was always very proud of being a Harvard A. B. For one year after graduating from Harvard, he took postgraduate studies in chemistry and languages at Massachusetts Institute of Technology. Before entering Maryknoll, Brother pursued an industrial career as a chemist in laboratories in the U. S. and on rubber and sugar plantations in Cuba.
A lengthy correspondence with our co-founder, Bishop James Anthony Walsh, antedated his entrance into Maryknoll in November 1924. He took his Oath of Aggregation to Maryknoll on September 14, 1930.
In 1936 Brother took a B.S. degree in Library Service at Columbia University and thus began the career of Maryknoll's first trained librarian. He helped set up the libraries at The Venard, Lakewood and Glen Ellyn. He was assigned to St. Teresa's in October of 1968. There he did much to enliven the community, and was as always the pleasant and enjoyable person he was known to be by generations of students, Brothers and priests. He prided himself in giving service to others no matter what the demands on his time.
A Vigil Service was held on Wednesday evening, April 24,at 7:30 p.m. in the Seminary Chapel. Mass of the Resurrection was concelebrated at Noon in the Seminary Chapel, April 25. The Principal Concelebrant was Father William T. O'Leary and the homilist Brother James Mansmann.