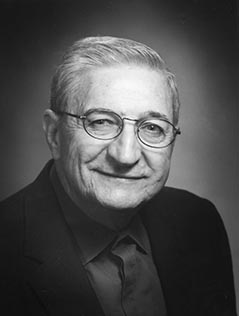 Brother Donald R. Miriani, MM
Born: November 24, 1932
Oath: June 2, 1962
Died: April 12, 2020
Brother Donald R. Miriani died on Easter Sunday, April 12, 2020 at the Assisted Living Center at Maryknoll, New York. He was 87 years old and a Maryknoll Brother for 57 years.
Donald was born on November 24, 1932 in Detroit, Michigan, to Louis and Irene Piatkowski Miriani. He had two brothers. He graduated from Pershing High School in Detroit and worked for a year before being drafted into the Army. He served two years and earned the Korean Service Medal. After being honorably discharged, he was employed by the General Motors Corporation and attended night school at Wayne State University in Detroit, Michigan.
In the late 1950's Donald began to consider a missionary vocation. One summer he traveled to Mississippi and helped a Franciscan priest, Fr. Peter, in his parish. Don was inspired by Fr. Peter's commitment to the poor. He also read the Maryknoll magazine to learn more about the purpose, spirit and charism of Maryknoll.
Donald joined Maryknoll on September 28, 1960 and attended the Novitiate at Brookline, Massachusetts. He took his First Oath on June 2, 1962, taking the religious name of Lionel. Brother was assigned to work in the Mission Shipping Room at Maryknoll Center for two and a half years. He then spent ten years at the Maryknoll Minor Seminary in Mountain View, California, serving in the business office and teaching catechetics.
In January 1974, after many years of Society Service in the United States, Brother Donald was assigned to Chile, where he served as the Regional Financial Officer and Director of the Santiago Society House. He was the Catholic Relief Services representative in Chile and also served in several parishes where he focused on pastoral work with youth. "The high point of my mission experience," he said, "was during my service in San Bernardo when I walked the streets to get to know unemployed and unchurched young adults who were caught up in drinking and drugging. We organized a soccer team which came to be called "Club Miriani" and organized a theatrical group which performed 'Jesus Christ, Superstar' over a three-year period. Many of these young people joined the Church and remain active in parish life."
Brother Donald returned to the United States in 1990. Following a sabbatical, he was appointed Co-Director of Maryknoll's New York City House in 1991. He held this position until he entered retirement in October 1999. At that time, Brother Donald took up residence at the Maryknoll Center in Maryknoll, New York, and contributed his professional services in the Controllers Office for many years. He was assigned to the Senior Missioner Community in July 2015.
A Mass of Christian Burial was celebrated in Queen of Apostles Chapel on April 15, 2020 at 11:15 a.m. Father Lawrence Lewis was Celebrant and homilist, Brother Brendan Corkery was the reader of the scripture and the Oath, and Brother John Blazo read the biography. Burial followed in the Maryknoll Society Cemetery.