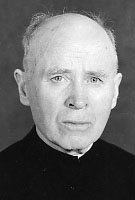 Brother Edmund F. Stack, MM
Born: January 17, 1888
Oath: September 14, 1930
Died: November 15, 1977
Brother Edmund (Patrick F. Stack) died early this morning (November 15, 1977) at St. Patrick's Manor in Framingham, Massachusetts, where he had been devotedly cared for since 1967 by the Carmelite Sisters for the Aged and Infirm.
Brother Edmund was born January 17, 1888, in Thompsonville, Connecticut. He was a graduate of St. Joseph's Parochial School, and worked for 10 years as a street-car conductor with the Hartford & Springfield Street Railway. He also worked for about 11 years with the Bigelow Hartford Carpet Mills, interrupted during World War I by a short period of service in the United States Army. He joined Maryknoll in October, 1925, and took his Perpetual Oath as a Maryknoll Brother in September 1931. During the 1930s he served at the Center, the Venard, and the Akron (Ohio) House. From 1940-1964 he was at Bedford, and from 1964-67 he was at Hingham, doing carpentry and other maintenance work. Advancing age and health concerns made it necessary for him to enter St. Patrick's Manor (then on Commonwealth Ave. in Boston) the Spring of 1967.
Generations of Maryknoll students who studied at the various houses where Brother Edmund served remember Brother Edmund as a kindly old-timer, slow of gait, a fine sense of humor, as regular as clock-work in everything, often praying in the chapel, who enjoyed puttering around the carpenter shop and his other work.
A Vigil Service for Brother Edmund was held at the Seminary Chapel on Wednesday, November 16. Mass was concelebrated for Brother Edmund at 11:45 a. m. on Thursday in the Seminary Chapel. Burial followed in the Maryknoll Cemetery.