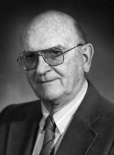 Brother Eugene E. Casper, MM
Born: May 16, 1929
Oath: June 2, 1962
Died: August 23, 2023
Brother Eugene E. Casper died on August 23, 2023 in the Assisted Living Unit at Maryknoll, New York.  He was 94 years old and a Maryknoll Brother for 61 years.
Eugene Edward Casper was born in Rochester, New York, on May 16, 1929, the son of Frank Theodore and Mary Raab Casper. He was the youngest of fourteen children, with eight brothers and five sisters. He attended St. Augustine's Grammar School and high school at Aquinas Institute. After high school, he studied Business Administration and Accounting at Rochester Business Institute and Sociology at St. John Fisher College. He was employed as an Accountant with the American Laundry Machine and Pfaudler Companies, Internal Auditor with the General Electric Credit Corporation and Scout Executive with the Boy Scouts of America. Eugene entered the Maryknoll Brothers' Novitiate in Brookline, Massachusetts on November 6, 1960 and took his First Oath on June 2, 1962, taking the religious name of Theodore. He took his Permanent Oath in 1968.
After taking his First Oath, Brother Theodore was assigned to the Maryknoll Center in New York where he worked in the Treasury Department. In 1965 Brother Theodore decided to return to his baptismal name, Eugene, an option given by the General Council. When the Controller's Department was established in 1968, Brother Eugene assisted with its organization and development of a uniform accounting system. In 1970 he was appointed Controller General for a period of three years. During this time, he traveled extensively to regions in Latin America, Asia and Africa, assisting in the implementation of the Unified Accounting System.
In 1973 Brother Eugene was assigned to the Africa Region. Following language studies in Tanzania, he was assigned to Kenya where he worked as Regional Financial Assistant. He returned to the United States in 1975 and participated in the Mission Renewal Program.
In March 1976, Brother Eugene was assigned to the Philippine Region. After completing language studies, he opted to live and work among the urban poor in a vast squatter area in Davao City in the southern Philippines. His first year was one of presence and home visitations. This difficult but rewarding experience provided insights into Filipino culture, the desperate situation of the people, malnutrition, tuberculosis, dysentery, and many diseases long eradicated in western countries. In 1980, Brother Eugene founded a low-cost housing program for the poor with facilities in three urban poor areas of Davao City. The period from 1981 to 1986 was extremely critical with killings, disappearances and detentions of many urban poor people accused of supporting the overthrow of the brutal Marcos regime. Brother Eugene assisted many families to locate missing persons. Accompanying husbands, wives, relatives and concerned citizens to hospitals, military detention centers, safe houses and funeral homes in search of loved ones became a major focus of his work. Brother Eugene continued to sponsor several students from urban poor families with their high school and university studies.
In 1989, Brother Eugene was assigned to the United States and appointed Director of the Justice and Peace Office. He returned to the Philippines in 1992. In June 1994, he entered the Special Society Unit with residence in the United States. He joined the Retirement Community (now Senior Missioner Community) in 2001 and continued to reside at the Society Center in Maryknoll, New York.
When asked what he would like people to understand about mission, Brother Eugene reflected, "I believe that Missioners should make every effort to be available to the poorest of the poor; living and walking with the poor is essential." He celebrated his 60th Jubilee as a Maryknoll Brother among family and friends at the Maryknoll Center in June 2022.
Brother Eugene is survived by numerous nieces and nephews, and his sister-in-law, Jane Casper. He was predeceased by his brothers: Alphonse, Frank, James, Oswald, Paul, Ralph, Richard and Robert Casper; and his sisters: Lillian Kase, Lucille De Clerck, Roselyn Remming, Eleanor Reisinger and Marie Wahl.
Wake services were held on September 18, 2023 in the Holy Spirit Chapel and the Queen of Apostles Chapel at the Maryknoll Society Center. A Memorial Mass followed at 11:00 a.m. in the Queen of Apostles Chapel. Father Clyde Phillips was the Celebrant and homilist. Brother Albert Patrick read the biography and Brother Brendan Corkery read the Oath. According to Brother Casper's wishes, his body was donated to New York Medical College for medical research. His ashes will be placed in the Columbarium at Maryknoll, New York at a later date.