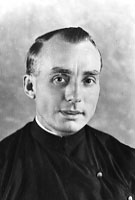 Brother Gabriel P. Uhll, MM
Born: January 15, 1904
Oath: March 1, 1935
Died: December 27, 1991
Brother Gabriel Uhll died peacefully at 3:30 a.m. Friday, December 27, 1991 at St. Teresa's Residence. He was 87 years of age and since his admission in 1933, a Maryknoll Brother for 58 years.
Daniel Paul Uhll was born on January 15, 1904 in Maspeth, New York, son of Henry Uhll and Josephine (Haufe) Uhll. He had six brothers and one sister. After graduating from Maspeth Public Grade School #72 he attended Plaza Business School, Long Island City, for nine months for business office training. From 1919 he worked for fourteen years as a stenographer, clerk and secretary in five different companies in Wall Street and Manhattan. This gave him wide experience in office routine which he considered his only talent. As a youth in his good Catholic family he had thought of the priesthood, but his education was limited to business techniques. At age 29 on April 17, 1933, he applied to Maryknoll as a Brother candidate and was accepted on April 26, 1933. He attributed his vocation to his family environment and reading "The Story of Maryknoll" and  "The Field Afar" magazine. He pronounced his First Oath of Obedience at Maryknoll Center on March 1, 1935 and chose the religious name of Brother Gabriel, because he was from St. Gabriel's Parish in East Elmhurst.
After profession, Brother Gabriel served in the Promotion House at the Maryknoll Novitiate, Bedford, Massachusetts, for nearly three years. Following one year service at Maryknoll Center in New York, on September 9, 1938 he moved to the Promotion House in St. Louis, Missouri, to serve as the office manager of the busy house. In all assignments he was a hard worker, and very meticulous about his clerical work. His Superiors wrote that he was a self-effacing, ever willing and diligent worker and very regular with his spiritual exercises. He himself wrote that in 49 years of office work he had a penchant for accuracy rather than speed. In his humility he claimed that he was completely lacking in talent except for office work. On the Feast of St. Michael the Archangel, September 29, 1941, he pronounced his Permanent Oath of Obedience in the St. Louis Chapel. He remained scrupulously faithful to his Oath for the rest of his life.
On April 30, 1946 at age 42, Brother Gabriel was delighted to receive his overseas assignment to the Maryknoll Mission in Peru, South America. In preparation for his mission work he enrolled in a Berlitz Spanish course in St. Louis and a workshop at the Institute in Social Work in the Missions at the University of St. Louis. Prior to leaving for Peru he also took a special course in the knowledge and repair of diesel engines at the R. H. Shephard Company in Hanover, Pennsylvania. Equipped with training a good missioner needs, he arrived in Puno, Peru, in November 1946. He tried diligently to adapt to the culture and office work of the Puno Mission. Unfortunately the altiplano of Puno proved too demanding for Brother Gabriel's health and he was transferred to the Maryknoll Mission in Chile. In the Maryknoll school in Molina, Chile, he showed an aptitude among the students for mechanical work. He studied Spanish assiduously, and gained a good enough grasp of Spanish to work with the students, but he never became fluent in the language. Again unstable health necessitated his recall to the United States and he was assigned to the St. Louis Promotion House on July 22, 1948.
His health improved somewhat and he did a splendid job as office manager according to his Superior. After nearly four years in St. Louis, due to the heavy demands of the office, Brother Gabriel requested a change and was assigned to the Maryknoll College, Glen Ellyn, Illinois, on December 16, 1952. He remained at Glen Ellyn for the next 20 years doing routine clerical work in the business office, in the college library, or in maintenance work as requested. However, he was plagued with recurrent bouts of illness which greatly limited his effectiveness and work. With the closing of Maryknoll College in 1972, Brother Gabriel was assigned to St. Teresa's Residence, New York, on August 9, 1972; and on February 7, 1975 he was enrolled in the Special Society Unit. While at St. Teresa's Residence he made a worthwhile contribution to the Community. For years he took care of the mail service, the newspapers and many other important but hidden services. He prized his independence and, while he was still able to walk and take care of his personal needs, never asked for anything. His life-style was simple and he never seemed to spend a penny on himself. He possessed a dry sense of humor even when he grew so weak that he required total personal care. He was a model of perseverance in distress and doggedly carried the heavy cross which the Lord seemed to have laid on his shoulders. His last few months were physically difficult for him, but he was at peace in mind and heart. After nineteen years at St. Teresa's Residence in his quiet way he simply took up permanent residence with the Lord on the Feast of St. John the Evangelist.
Wake services were held in St. Teresa's Chapel, and in the Center Chapel, Sunday evening, December 29. A concelebrated Mass of Christian Burial was offered in the Center Chapel on Monday, December 30 at 11:30 a.m., with Father Leo B. Shea as principal celebrant and Father Vincent T. Mallon homilist. Interment services were conducted in the Maryknoll Center Cemetery.