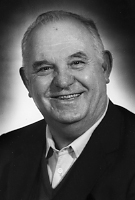 Brother George Carlonas, MM
Born: April 3, 1918
Oath: June 24, 1949
Died: February 23, 2014
Brother George Carlonas died at Phelps Memorial Hospital, Sleepy Hollow, New York on February 23, 2014.  He was 95 years old and was a Maryknoll Brother for 64 years.
George Carlonas, one of three children, was born on April 3, 1918, in Scranton, Pennsylvania, son of Martin and Mary Lukas Carlonas.  His early schooling took place in Scranton Public Grade School and Scranton Technical High School.  George gained fame as a professional baseball pitcher in the Minor Leagues and started his career in 1940 with the London Pirates, a farm club of the Pittsburgh Pirates baseball system.  He established a league record for strikeouts, fanning 181 in one season.  George joined the U.S. Army Air Corps in January 1943, serving as an airplane and engine mechanic, and he saw action in both the European and Pacific Theaters of Operation.  He was honorably discharged in December 1945 as a Sergeant with seven Bronze Stars to his credit.  After World War II, George returned to baseball, and the Pittsburgh Pirates sent him to the Albany Senators and from there to the Harrisburg Senators in Pennsylvania in the Interstate League.  His baseball career ended when he joined Maryknoll.
After reading the Maryknoll Magazine – The Field Afar and following the advice of his pastor, George entered the Maryknoll Brothers Novitiate at Akron, Ohio on September 21, 1947.  He pronounced his First Oath of Obedience on June 24, 1949 and took the religious name of Brother Leonard.  He pronounced his Permanent Oath of Obedience on June 20, 1952 at Maryknoll Junior College, Lakewood, New Jersey.  Brother George was an excellent mechanic and all-around maintenance worker.  For the next seven years he worked at Maryknoll College, Illinois; Brookline Novitiate, Massachusetts; Lakewood Junior College, New Jersey and Maryknoll Center in New York.   In May 1964 he was given permission to return to his baptismal name.
On April 27, 1956 Brother George was assigned to Maryknoll's mission in Maswa, Shinyanga, Tanzania, where he served for the next 15 years.  He gained a reputation as a draftsman and builder as the various mission stations were being constructed.  When the building boom ended, he was recalled to the United States on November 1, 1971 for service at Maryknoll Center.  In April 1975 Brother George was temporarily assigned to the Hong Kong Region to assist in the renovation of Maryknoll's Stanley House.  After several months of overseeing the renovation, he returned to Maryknoll Center and worked in the Physical Plant Department.  On January 8, 1988 Brother George was enrolled in the Special Society Unit with residence and part-time work at Maryknoll Center, New York.  In February 2001 he was assigned to the Retirement Community and continued residing at the Center until September 2005 when he moved to Mission St. Teresa.
Wake services were held at 4:30 p.m. on February 27, 2014 at St. Teresa's, and at 7:30 p.m. in Queen of Apostles Chapel at Maryknoll Center where Brother Kevin Dargan officiated and Father Wayman Deasy read the biography.  Mass of Christian Burial was concelebrated in Queen of Apostles Chapel on February 28, 2014 at 11:00 a.m.  Father Maurice Zerr was Principal Celebrant and Father Edward Dougherty homilist.  Burial followed in Maryknoll Society Cemetery with Father Edward Dougherty conducting the graveside service.