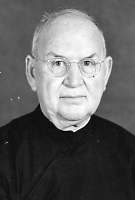 Brother Gerard Langland, MM
Born: August 28, 1889
Oath: April 7, 1935
Died: March 5, 1960
Howard F. Langland (Bro. Gerard) was born in Haverhill, Massachusetts, on August 28, 1889. He was graduated from Haverhill High School and received his degree in Business Administration at New York University in 1914. He gave up a promising business career to enter Maryknoll in January of 1923. He took the Perpetual Oath of the Society on April 7, 1935.
For several years he made an important contribution to the Society as private secretary to Bishop James A. Walsh. In 1934 he was assigned to the Cincinnati Promotion house. He returned to the Center in 1943 and in 1947 was assigned to the Venard Promotion office, where he remained until his death.
Brother Gerard was a quiet man who worked methodically, with great attention to details, and served his superiors faithfully. He was noted for his quiet good humor and cheerfulness at all times. The reports of his superiors were always most favorable, not only with regard to his work but in his faithfulness to his spiritual duties as well.
Brother fell ill on March 4, 1960. He was anointed and rushed from the Venard to Mercy Hospital in Scranton where he died the following day.
The funeral of Brother Gerard took place at Maryknoll on March 8th, together with that of his brother in Christ, Bro. Brendan who died the day after Bro. Gerard. Both were buried in God's Acre at Maryknoll.