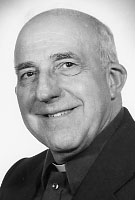 Brother Gilbert Figundio, MM
Born: April 10, 1916
Oath: June 29, 1951
Died: April 27, 2005
Brother Gilbert Figundio died at St. Teresa's Residence, Maryknoll, New York on April 27, 2005. He was 89 years old and a Maryknoll Brother for 53 years.
Frank Figundio, son of Vincent and Egilia Ferreri Figundio, was born in New York City on April 10, 1916. He had two brothers, William and Elia. After grade school Frank attended the High School of Commerce, and subsequently took a six-month course at the Burroughs Business School. Later on he joined the New York City Fire Department. Frank demonstrated a lifelong love of music, playing both the violin and clarinet. He played 2nd clarinet in the NYC Fire Department Band. At the outbreak of World War II he enlisted in the U.S. Army, serving four years in Army Intelligence until he was honorably discharged with the rank of sergeant on November 30, 1945.
Frank entered Maryknoll on November 16, 1949 at the Maryknoll Brothers Novitiate in Akron, Ohio, and pronounced his First Oath of Obedience on June 29, 1951, taking the religious name of Brother Gilbert. He took his Perpetual Oath on June 18, 1954. Brother Gilbert served at Maryknoll Junior Seminary in St. Louis until he was assigned to Collegio Maryknoll in Rome, Italy, on December 20, 1955. As a long-time devotee of Italian art and
culture, he was delighted with this new assignment. His work in Rome at the Collegio consisted of bookkeeping, supervising house employees, purchasing, securing Papal Blessings for those requesting them, and acting as special tour guide for many individuals and groups of people stopping at the Collegio. Brother Gilbert served well for 27 years at Collegio Maryknoll and is fondly remembered by the many people he encountered and assisted during those years. He had the distinction of working in Rome during the reign of five Popes. Among his many Roman friends, Brother Gilbert counted Alfredo, the chef who created Fettuccini Alfredo at the famous restaurant of the same name. Brother Gilbert's photo, taken with the "old original Alfredo" adorns the walls of that restaurant to this day.
On February 16, 1982, Brother Gilbert was assigned to the Development Department with residence and work in the New York City House. In July 1986 he was transferred to Maryknoll Center to serve in the Center Coordinator's  Office.
In June 1991 he moved to St. Teresa's Residence, where he was a member of the Retirement Community.
Wake services were held at 4:30 p.m. on May 5, 2005 at St. Teresa's, with Father Paul Belliveau officiating, and at 7:30p.m. in Queen of Apostles Chapel at Maryknoll Center where Brother John Blazo officiated and Brother David McKenna read the biography Mass of Christian Burial was concelebrated in Queen of Apostles Chapel on May 6, 2005 at 11:00 a.m. Father William Donnelly was Principal Celebrant and Father Charles Huegelmeyer homilist. Burial followed in Maryknoll Society Cemetery with Father Robert Lloyd conducting the graveside service.