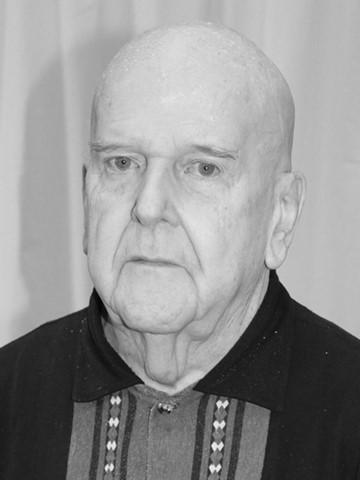 Brother Gordon M. Burns, MM
Born: December 12, 1926
Oath: June 29, 1952
Died: December 20, 2018
Brother Gordon M. Burns died on December 20, 2018 at Maryknoll, New York. He was 92 years old and a Maryknoll Brother for 66 years.
Gordon Murray Burns was born in Kingston, Ontario, Canada, on December 12, 1926, son of Francis James Burns and Dorothy Gladys Murray Burns. He had one brother, Stanley Burns, and three sisters: Sister Jean Burns, CND of Toronto, Ontario; Dorothy Saunders of Angus, Ontario and Doris Burns, all deceased. Gordon attended St. Mary's Separate School in Kingston and graduated from the Kingston Collegiate and Vocational Institute with a diploma in carpentry. He worked for five years as an apprentice-journeyman carpenter before entering Maryknoll on September 27, 1950 at Maryknoll, New York. At the end of his Novitiate in Brookline, Massachusetts, he pronounced his First Oath of Obedience and took the religious name of Brother Jerome.
After Novitiate Brother Jerome was assigned to the Maryknoll Center in New York and served there for three years doing carpenter-maintenance work and spending time helping out with Church Promotion dates around the New York area. He pronounced his Permanent Oath of Obedience at Maryknoll on June 18, 1955 and was assigned to the Maryknoll mission in Japan. He engaged in language studies for one year in Tokyo and was assigned to the Maryknoll Center House in Tomakomai, Hokkaido. He lived for a while in the parish until the Maryknoll Center House was built. He remained in Hokkaido for seventeen years, involved in overseeing the construction of new parish plants that were being built, doing carpenter-maintenance work, teaching English and cooking at the Center House. While on furlough in the United States, in September 1961, he filled a temporary assignment at Maryknoll College, Glen Ellyn, Illinois. He returned to Japan in August 1962 and was assigned to the Maryknoll Center House in Kyoto. He did work in the Maryknoll parishes with different jobs in the line of upkeep and some procurator's work in the mission's Center Office. After home leave in March of 1963, he returned to Tomakomai Center House in Hokkaido and continued work in the various parishes. He discontinued the use of the religious name of Jerome and resumed his baptismal name of Brother Gordon.
Brother Gordon renewed his language studies in Tokyo and went to the Philippines to study at the East Asia Pastoral Institute-Ateneo-Manila for theological and scriptural updating. He enjoyed it very much and in June 1974, he returned to new parochial work in Sacred Heart Parish in Tsu Mie-ken in the Kyoto Diocese. For thirteen years, his work consisted of teaching English to 5 and 6 year old children and some adults. In 1985, in connection with his home leave, he enjoyed the ten week Maryknoll Spiritual Renewal Program in the Holy Land. In 1987, Brother Gordon was assigned to the Holy Spirit Parish in Kyoto where he continued for four years the same apostolate as in Tsu.
In August 1991, at 65 years of age, Brother Gordon was enrolled in the Special Society Unit, residing at Maryknoll in Los Altos, California, and in February 2001, he became a member of the Retirement Community (now referred to as the Senior Missioner Community). In 2006, Brother Gordon left Los Altos and returned to Maryknoll, New York and resided at the Maryknoll Society Center.
A Rosary and wake service was held at 4:00 p.m. on January 2, 2019 in the Holy Spirit Chapel in the Maryknoll Society Center. Brother Burns' remains were transferred to the Lady Chapel on January 3,, 2019 at 9:30 a.m. Prayers were offered in the Lady Chapel until 10:45 a.m. and the biography was read by Brother Kevin Dargan. Mass of Christian Burial was concelebrated in Queen of Apostles Chapel at 11:00 a.m. Father Emile Dumas was Principal Celebrant and homilist. According to Brother Gordon's wishes, he was cremated and his cremains were placed in the Columbarium at Maryknoll, New York.