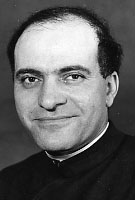 Brother Harvey Essy, MM
Born: March 9, 1916
Oath: June 29, 1951
Died: November 21, 2003
Brother Harvey Essy died after a long illness, early in the morning of November 21, 2003 at St. Teresa's Residence, Maryknoll, New York. He was 87 years old and a Maryknoll Brother for 52 years.
Harvey Essy was born in Sioux City, Iowa on March 9, 1916, son of Michael Essy and Diebe Thomas. He had two brothers and one sister, May. Brother Harvey attended St. Mary's Parochial School, Akron, for eight years and graduated from South High School four years later. He studied one year at the Institute of Trades in Philadelphia. In 1937 he completed an ICS correspondence course in aviation mechanics. During World War II he served for six years in the U.S. Army Air Force as a mechanic, and from 1943 to 1945 he was a physical instructor at Davis-Monthan Field in Tucson, Arizona. He served in Panama and Peru, South America and was honorably discharged as a Staff Sergeant in August 1, 1945. Since he was also a clever comic and mimic, he worked for four years in show business as a night club comic, well known for his impersonation of Jerry Colonna. He also completed a bricklayer's course in Philadelphia in 1948.
He joined Maryknoll on September 27, 1949 and attended Maryknoll Brothers Novitiate in Akron, Ohio, where he pronounced his First Oath of Obedience on June 29, 1951 and took the religious name of Brother Harvey. He worked for two years on the farm at Maryknoll, New York, and then was assigned to the Brothers Novitiate, Brookline, Massachusetts, to study agriculture at Walpole Agricultural School. He received his certificate in June 1955. Brother Harvey pronounced his Perpetual Oath on June 26, 1954.
On May 1, 1956, Brother Harvey was assigned to Maryknoll's Molina Agricultural School in Chile, South America. For five years he served as an instructor and work supervisor in the school and then spent the next six years working among Mapuche Indians in Chol-Chol, Chile. He was recalled to the United States in January 1968 to work at Maryknoll Center. On March 25, 1975 Brother Harvey was assigned to Maryknoll's Mission Region in Mexico. He served in Merida, Yucatan, until April 1, 1986 when he entered the Special Society Unit with residence at St. Teresa's. Brother Harvey was assigned to the Retirement Community in February 2001.
During the past eighteen years Brother Harvey has shipped rosaries, medals, scapulars, bibles, Catholic books, booklets, used clothing, powdered milk, statues, holy cards, plastic holy water bottles, chalices, ciboria, monstrances, vestments, missals, mass books and prayer books to Nigeria, India, Pakistan and Mexico.
Wake services were held at 4:30 p.m. on November 25, 2003 at St. Teresa's, with Father Thomas McDonnell officiating, and at 7:30 p.m. in Queen of Apostles Chapel at Maryknoll Center where Father Joseph Veneroso officiated and Brother Eugene Casper read the biography. Mass of Christian Burial was concelebrated in Queen of Apostles Chapel on November 26, 2003 at 11:00 a.m. Father Thomas Golden was Principal Celebrant and Father Francis Diffley homilist. Burial followed in Maryknoll Society Cemetery.