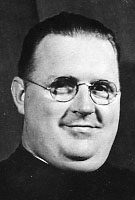 Brother Hilarion Flanagan, MM
Born: August 21, 1909
Oath: September 29, 1942
Died: September 15, 1971
William C. Flanagan was born in Brooklyn, N.Y. on August 21, 1909. He attended public schools and was employed for five years before entering Maryknoll on February 25, 1934. He took his Perpetual Oath to the Society on September 29, 1942.
Brother's entire life was spent in the United States much of his work being procuration. He spent the years 1958-70 at Glen Ellyn. For a period of many years he had been ill, but his cheerful acceptance of this cross was an inspiration to all.
As a young man, Brother Hilarion was a member of the Venard Club, a group of men interested in mission work and very helpful to Maryknoll in the early days.
Brother Hilarion died at St. Teresa's Residence on September 15, 1971. A concelebrated Mass was held at which Father General was principal celebrant and Fr. Richard Allen preached the homily. burial followed in our cemetery.