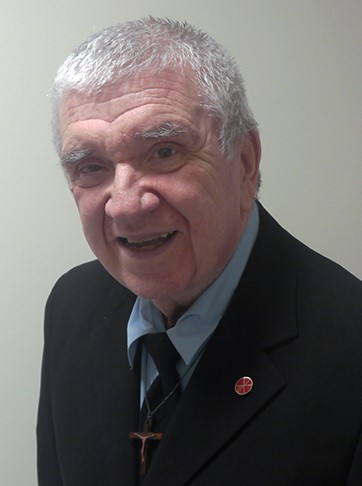 Brother J. Francis Dolphin, MM
Born: March 5, 1937
Oath: June 29, 1959
Died: March 23, 2021
Brother J. Francis Dolphin, M.M. died on March 23, 2021 at the Maryknoll Society Center Assisted Living Unit in Maryknoll, New York.  He was 84 years old and a Maryknoll Brother for 61 years.
John Francis Dolphin, III was born on March 5, 1937 in Worcester, Massachusetts, the oldest of five children born to John Francis Dolphin, Jr. and Mary Anne Jackson Dolphin.  His early education was under the Sisters of Notre Dame de Namur at St. Mark's Elementary School in Boston and North Quincy High School in Quincy. After graduation in 1955, Francis worked for one year in Supreme Market in Wollaston and Dorchester before entering the Maryknoll Brothers Novitiate in Brookline, Massachusetts in September 1957.  He took his First Oath to the Maryknoll Society on June 29, 1959, taking the religious name Brother Hugh.  He took his Permanent Oath on June 19, 1965 and resumed his Baptismal name, John Francis, becoming known as Brother Frank.
Brother Frank was assigned to Maryknoll, New York from June 1959 to 1961.  He went to St. Joseph's Institute and was involved in the Porters Lodge, showing visitors around the Seminary.  From 1961 to 1963,  he was assigned to the Maryknoll Japanese Mission in Los Angeles, California.  He then spent one year at the Maryknoll Junior Seminary at Mountain View, California as secretary to the rector, Fr. John Lenahan.  He returned to Maryknoll, New York in 1965 to begin Liberal Arts studies at Westchester Community College and received an Associate of Arts degree.  Later he went on to further studies at Mary Rogers College, earning a Bachelor's degree in Liberal Arts.
Brother Frank was assigned to the Chile Region in July 1972.  After language studies at the Maryknoll Language School in Cochabamba, Bolivia, he was assigned to teach English as a Second Language at the Maryknoll La Asuncion elementary and high school in the Navy port town of Talcahuano.  He was involved in the American Field Service exchange program, bringing American students to La Asuncion high school.  He also taught English to workers in the steel mill, and to students at the University of Concepcion and the North American Institute.  These were very difficult times in Chile under the dictatorship of Pinochet.  After 15 years in Talcahuano, Brother Frank was assigned to Valdivia where he taught English at the University Austral, and was involved in campus ministry and pastoral work.  He also assisted young workers in a chocolate factory to establish and get fair labor practices through the help of the Diocese of Valdivia.
Brother Frank helped in the preparation for the first Maryknoll Brothers Assembly held in Curico, Chile in January 1989.  He was asked to be the representative of the Brothers for Latin America at the Assembly and to become one of the first members of the new Brothers Service Team.  He was responsible for the creation of the "Maryknoll Brothers Newsletter," and continued to serve as its editor for over twenty years.
In 1994 Brother Frank was assigned to Curico, Chile, where he worked in a parish with Brothers John Nitsch and Joseph Bruener.  Brother Frank helped to set up the English Department at the Catholic University, teaching English to workers and employees who were responsible for exporting fruit and wine throughout the world from Chile.
After twenty-five years in Chile, Brother Frank was assigned to the United States in 1997 to work in the Development Department in the Denver Promotion House.  He went on to become Director of the House, following in the footsteps of Fathers Francis Higdon and Joseph McGahren.  He promoted Maryknoll in dioceses throughout the states of Wyoming, Utah, Colorado, New Mexico, and western Kansas and Nebraska.  Besides doing mission education work and giving talks to youth in schools and universities, he also served on Archbishop Chaput's Vocation Council as the Brother Representative and on the Retired Religious Committee for the Archdiocese of Denver.  In July 2001, Brother Frank was elected as the delegate for the Permanent Oath Brothers in the United States to the 2002 Eleventh General Chapter.  He participated in the Holy Land Spiritual Program in Autumn of 2001.
A lifelong fan of the circus, Brother Frank became involved in Circus Ministry while working in Chile.  He visited the performers of the Chilean circuses, and became a great friend of the Chilean clown, Tony Caluga.  He continued with Circus Ministry in the United States, thanks to Little Sister Jo who got him involved, and was in contact with other religious in the Sarasota Circus Ministry meeting every January.
In 2003, Brother Frank was assigned to the Latin America Region.  He resided at the Maryknoll Mission Center in Latin America in Cochabamba, Bolivia.  He taught English as a second language to Bolivian priests and seminarians in preparation for service in mission outside of their home country.  On the occasion of his 50th Jubilee in 2009, Brother Frank reflected, "My spiritual quest is going beyond the shores of my own country.  To follow the example of my own parents: my Mother is my first missionary who came from Ireland at the young age of 16, and my Father taught me that the world is a lot bigger than my home in Massachusetts.  Of course, I follow in the footsteps of my Maryknoll Brothers, priests, Sisters and Lay Missioners who have gone before me."
In 2017, Brother Frank returned to the United States and was assigned to the Senior Missioner Community.  He resided at the Society Center in Maryknoll, New York.  In 2019 he celebrated his 60th Jubilee as a Maryknoll Brother.
A Mass of Christian Burial was celebrated in Queen of Apostles Chapel on March 31, 2021.  Father Robert Hoffmann was Principal Celebrant and Father Joseph Heim was homilist.  Brother John Blazo read the biography and Brother Goretti Zilli read the Oath.  In keeping with Brother Frank's wishes, he was cremated and his cremains will be interred with his family in Quincy, Massachusetts.