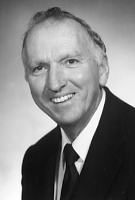 Brother James J. Hengy, MM
Born: July 30, 1934
Oath: June 29, 1957
Died: June 18, 1988
Brother James Jerome Hengy, a member of the Peru Region, died suddenly on June 18, 1988 in Cairo, Egypt. He had visited there after his Spiritual Renewal Program in the Holy Land and then went on to visit Kenya and Tanzania. News of his death was a shock to all because he had always enjoyed good health.
James, fourth son of Leo Hengy and Norma Hintz, was born in Dearborn, Michigan. on July 30, 1934. He grew up in an excellent Catholic family, with six brothers and two sisters. His elementary and high school education was in Dearborn. After his graduation from Holy Redeemer H.S. in 1952 he worked for two years at the Ford Plant in River Rouge. At 21, he entered the Maryknoll Novitiate of the Brothers in Brookline in 1955. His vocation to Maryknoll was inspired by a nun in the tenth grade. He took the religious name of Leo and his First Oath in June, 1957. (In 1973 he changed back to his baptismal name). He made his Perpetual Oath in 1960.
His first assignment was to Clarks Summit in 1957 and he served in the kitchen for a year, then was assigned to Maryknoll Center, fulfilling various jobs such as mail truck driver, etc. He was considered well adjusted with a pleasant manner which made a good impression on others. One superior wrote: "He is a very reliable person to have around." During his 3 years at the Center he took the automotive course at the Brothers' Institute and served in the Mission Shipping Room where he did a good job.
In 1963 Brother James was assigned to the Peru Region where he spent 25 years of dedicated service. After language study he was placed in charge of the Center House in Puno. While there he developed an apostolate to the social community of the town. He served on a variety of committees. The improvement of streets and the water supply, along with the development of playgrounds for children, were among the activities he spearheaded. His many years in Puno allowed him to know well both the clergy and the citizens there. He was looked upon with great respect and his friendship was prized by all. It was not uncommon for local priests, sisters, associates and even the Bishop to drop in at the heuse to have a meal or a cup of coffee with him. The local folks in Puno felt quite at home visiting with Jim at the center house and in their own homes. His apostolate was one of caring friendship for all.
In 1982 he was placed in charge of the Center house in Arequipa. There he again worked in various youth projects and helped build a park and sports field for them. In the parish he served as Eucharistic minister, bringing Holy Communion to people in the hospital and in their homes. Wherever he went, he left his mark of friendship and fraternal care for others. Brother James was considered a prayerful man, obedient and willing to do any job asked of him with a happy spirit.
During the Spring of 1988 James attended the Spiritual Renewal Program in the Holy Land and broadened his mission vision with visits to Kenya and Tanzania. He hoped, of course, to return to Peru and Fr. Win. McCarthy, Regional Superior, had plans for him to be in charge of the Lima Center House. Jim looked forward to this new assignment.
The wake took place on June 27 at Maryknoll. The Mass of Christian Burial was the following day with Father Edmund Cookson as Principal Celebrant and Father Gerard McCrane giving the Homily. Burial was in the Maryknoll Cemetery.