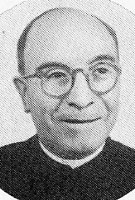 Brother Jerome Roddy, MM
Born: November 21, 1883
Oath: January 4, 1931
Died: June 12, 1949
William Roddy was born on November 21, 1883 in Londonderry, Co. Londonderry, Ireland. He received his early education in the national schools of the area and did a variety of work for many years before entering Maryknoll in 1926 at the age of forty-three. His first assignment was at the Center where he shared responsibility for the maintenance of the machinery, pumps, etc.
Transferred to the Venard, for many years he was the boilerman and was most faithful in carrying out laborious work in the firing and cleaning of the boilers at a time when this was almost all done by hand. Despite the irregular hours imposed upon him by his duties, he managed to keep up attendance at most of the community exercises.
In 1940 he was assigned to Mountain View where his duties were not so arduous and the climate was less exacting. It was while continuing his devoted service there that Brother Jerome fell ill on June 12, 1949. One of the priests was called and the last rites were administered. Brother went to his eternal reward a few minutes later. Funeral and interment took place at the Junior Seminary at Mountain View.