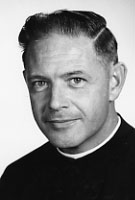 Brother John E. Walsh, MM
Born: July 23, 1925
Oath: September 29, 1946
Died: March 2, 2000
Brother John E. Walsh died on March 2, 2000 at Phelps Memorial Hospital, Sleepy Hollow, New York. He was 74 years old and a Maryknoll brother for 53 years.
John E. Walsh, one of two children of John and Marie Mullarkey Walsh, was born July 23, 1925, in Wheeling, West Virginia. He entered the Brothers Program in January 1944, and took his First Oath on September 29, 1946, taking the Religious name of Damien. Brother took his Perpetual Oath in 1949.
He wrote in 1943 why he felt he was being called to the missionary vocation. John went on to say "It is a hard life but a happy one. It is in my eyes, one of the best ways you can give your life to God…During my freshman year in high school, a Maryknoll priest showed a movie and gave a talk on the Maryknoll Missions. From this time on I became more and more interested in mission and Maryknoll. My older sister received the Field Afar and this kept my vocational interest going".
After Novitiate he was given various assignments in the United States until 1949 when he was assigned to Tanzania, engaging in building construction. Brother Damien earned a Degree in Architecture from the East Africa Institute of Architects in September 1960. In October 1968 he was assigned to the U.S. Region and assumed the responsibility of Business Manager at the Maryknoll Society Center.
In April 1972 he returned to Africa on behalf of the Archdiocese of Nairobi as Architect/City Planner with the Nairobi City Council, specializing in low income housing and squatter upgrading. In 1978 he was able to turn over his responsibilities to qualified Kenyan Architects. In December 1976, Brother Damien asked to return to using his birth name of John.
From 1978 until the present he has been in private practice concentrating his efforts on Church-related projects throughout Kenya and Tanzania. It was not secret that Brother John was highly respected by Church leadership and Government officials for his highly professional abilities as an Architect. Many would say that he truly had a hand in "building" the local Church in East Africa.
Brother John also served four consecutive terms on the Kenya Regional Council. He was a man of great wisdom and experience. Brother John held the respect and confidence of his fellow missioners in East Africa. Many Maryknollers would often seek Brother John out for his opinion, advice and counsel. In his own gentle and low key manner he helped many during very difficult times. Brother John's kindness toward others, gentleness, story telling and humor will be missed by Maryknollers and many Kenyans and Tanzanians.
Wake services were held on March 5, 2000 at 7:00 p.m. at St. Teresa's and at 7:30 p.m. at Queen of Apostles Chapel at Maryknoll Center where Father James Lehr officiated and Brother Kevin Dargan read the biography. Mass of Christian Burial was concelebrated at Queen of Apostles Chapel on March 6, 2000 at 11:00 a.m. Father Lionel Bouffard was Principal Celebrant and Father Richard Smith homilist. Burial  followed at Maryknoll Center Cemetery with Brother Wayne J. Fitzpatrick conducting the graveside service.