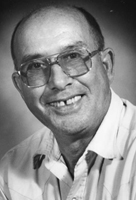 Brother John H. Frangenberg, MM
Born: September 15, 1930
Oath: June 29, 1956
Died: May 26, 2014
Brother John H. Frangenberg died at St. Teresa's Residence, Maryknoll, New York on May 26, 2014.  He was 83 years old and a Maryknoll Brother for 57 years.
John Henry Frangenberg was born on September 15, 1930 in Pocahontas, Arkansas, son of John and Dorothea Berger Frangenberg.  In the summer of 1945 the family moved to Wichita, Kansas.  He had eleven sisters and three brothers; three of his siblings died in early childhood. After working for several years, he entered the U.S. Navy and, after being honorably discharged in January 1954, he entered Maryknoll in September 1954 at the Brothers' Novitiate in Brookline, Massachusetts.  Brother took his first Oath on June 29, 1956, taking the religious name, Adolph.  In 1964, Brother Adolph chose to return to the use of his baptismal name and was henceforth called Brother John.
Brother John's first assignment was to the Maryknoll College in Glen Ellyn where he worked in the Physical Plant Department for one year.  In 1957 he was assigned to Minneapolis for two years for special studies in electricity, welding and auto mechanics.  When he completed his studies in 1959, he moved to the Society Center for a few months before starting his new assignment at the minor seminary in Chesterfield, Missouri which was being built at that time.  Brother John spent the next fourteen years at Chesterfield taking care of the heating plant and building maintenance.  He was the last Maryknoller to leave Chesterfield after the property was sold in 1972.
In July 1972, Brother John moved to the new novitiate in Hingham, Massachusetts where he worked until November 1975, when he moved to the Society Center at Maryknoll, New York to take charge of the Physical Plant Department.  Brother John stayed at the Center as Director of the Physical Plant Department for the next eleven years.
Finally in December 1986, Brother was given a long-awaited mission assignment to work in the Diocese of Musoma, Tanzania.  He went to the Baraki Sisters Farm in Musoma to work with Father Arthur Wille, M.M., who was helping the Immaculate Heart Sisters of Africa to develop the farm as a training site for their postulant candidates and also as a means of support for their community.  He kept the farm machinery in good repair and taught the Sisters proper equipment maintenance, as well as some basic fundamentals of working with electricity.
Eventually Brother John became a father/grandfather figure for the Sisters and Postulants at Baraki and was completely dedicated to their welfare. When news of his death arrived in Musoma, one Sister was heard to say, "One of our own has passed on."  He was elected Assistant Regional for Tanzania in October 1989 and served in that position for six years. Brother John retired in 1997, but remained working at the Baraki Sisters Farm until 2003 when he moved to the Society House in Makoko.  However, he continued to work part-time both in Baraki and Makoko.
In 2007, Brother John returned to the United States and in May was assigned to the Retirement Community with residence in Los Altos, California. After three years he moved to the Society Center at Maryknoll, New York, where he remained until his move to Mission St. Teresa's in August 2013.
Wake services were held at 4:30 p.m. on June 2, 2014 at St. Teresa's, and at 7:30 p.m. in Queen of Apostles Chapel at Maryknoll Center where Brother Kevin Dargan officiated and Brother Thomas Hickey read the biography.  Mass of Christian Burial was concelebrated in Queen of Apostles Chapel on June 3, 2014 at 11:00 a.m.  Father Lance Nadeau was Principal Celebrant and homilist.  Burial followed in Maryknoll Society Cemetery with Father Edward Dougherty conducting the graveside service.