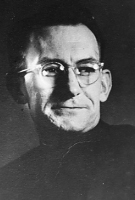 Brother John J. LaMotte, MM
Born: December 16, 1913
Oath: September 29, 1939
Died: January 15, 1999
Brother John La Motte died at Phelps Memorial Hospital, Sleepy Hollow, New York in the evening of January 15, 1999. He was 85 years old and pronounced his first oath to Maryknoll in 1939.
Brother John was born William J. La Motte on December 16, 1913 in Los Angeles, California, son of William and Anna O'Neill LaMotte. William attended St. Anthony Grammar School, All Souls Grammar School and then St. Agnes Grammar and High School, all in Los Angeles.Upon graduation, William worked at the Pacific Wheel Rim Service in Los Angeles for five years before entering Maryknoll in February 1938.
William pronounced his First Oath of Obedience on September 29, 1939 and took the religious name of Brother John. Brother John was assigned to the San Francisco Development House where he served as an excellent clerical assistant, taking shorthand which he did very well. He took his perpetual oath on September 29, 1945 and in October 1946, he was assigned to Maryknoll's mission in Hawaii and served in the Immaculate Conception Parish, Holualoa, North Kona, Hawaii. Due to health problems, he served there for about two years and then transferred to the promotion office at Maryknoll Novitiate in Bedford, Massachusetts. In 1964, when the novitiate was transferred to Hingham, Massachusetts, Brother John moved to Hingham. He remained at Hingham until November 1969, when his persistent health problems necessitated his move to St. Teresa's, where he continued to reside until his death. Brother John was enrolled in the Special Society Unit on January 1, 1976. At one time, during a conversation with his half-brother Tom, Brother John commented that he had lived in so many different houses as a child, that he thought it had an effect on him in later life.
Brother John's family and the staff of St. Teresa's were all impressed by his holiness. At St. Teresa's he was known for his quiet humor, playful mischievousness and for always being kind. Rev. James A. Jackson, who knew Brother John both in Hawaii and at St. Teresa's, commented: "Can you just picture Brother John walking up to the Throne of God and saying: 'Hi, Charlie!' "
Wake services were held at 7:00 p.m. on Tuesday, January 19, 1999 at St. Teresa's and at 7:30 p.m. at Queen of Apostles Chapel at Maryknoll Center where Father David I. Walsh officiated and Brother Kevin Dargan read the biography. Mass of Christian Burial was concelebrated at Queen of Apostles Chapel on Wednesday, January 20, 1999 at 11:00 a.m. Father John Hudert was Principal Celebrant and Father Thomas Kirchmyer was homilist. Burial followed at Maryknoll Center Cemetery with Father Richard Callahan conducting the graveside service.