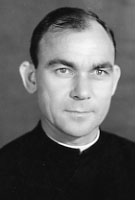 Brother John J. Wohead, MM
Born: September 28, 1916
Oath: June 29, 1952
Died: November 16, 2011
Brother John Wohead died early in the morning of November 16, 2011 at St. Teresa's Residence. He was 95 years old and a Maryknoll Brother for 59 years.
John Joseph Wohead was born on September 28, 1916, in Bremond, Texas, son of Henry and Catherine Franko Wohead. He attended St. Anns Parochial School in Chicago, Illinois, and two years of high school at Clearspring School, Clearspring, Indiana. After formal schooling, John gained wide-spread experience as a journeyman carpenter, doing general farm, and technical arc welding. He entered the U.S. Army Air Corps in September 1942 and served overseas with the 306 Bomber Group, 423rd Bomb Squadron in Thurleigh, England. He received credits for Normandy, Northern France, the Rhineland and Central Europe offensives. He was honorably discharged as a Corporal on September 15, 1946.
At age 34 John became a postulant at the Old Farm House, which used to be the Maryknoll Seminary, and entered the Maryknoll Brothers Novitiate, Brookline, Massachusetts, on November 15, 1950. He took the religious name of Brother Ernest and pronounced his First Oath of Obedience on June 29, 1952 and his Permanent Oath on June 18, 1955. After profession, Brother Ernest was assigned to the Maryknoll Junior Seminary, Mountain View, California, and placed in charge of the boiler room and heating plant and other mechanical equipment.
On May 21, 1955, Brother Ernest was assigned to the Maryknoll Mission in Maswa-Shinyanga, Tanganyika, East Africa. Except for periodic, short home leaves, he served his entire mission life in Africa. While on home leaves, he worked at Maryknoll College, Glen Ellyn, on special jobs and attended some Mission Renewal and Spiritual Renewal Programs arranged for him. In 1965, Brother Ernest changed his name to Brother John, his baptismal name.
In Shinyanga he supervised and worked on the construction of many churches and school buildings in many of the Maryknoll Missions and made a great contribution to the building of the Cathedral in Shinyanga. His job was to see that the African contractor did a good job. Bishop Castor Sekwa let Brother John determine the size of the Cathedral and when it was finished it was big enough to seat 2,500 people comfortably.
In March 1991 at the age of 74, Brother John opted to enter the Special Society Unit with continued residence in Shinyanga. He made four trips to Medjugorje, Yugoslavia, where he found a peaceful and prayerful atmosphere; where the Blessed Mother said "I am the Queen of Peace." Brother John continued to live and tend his garden in Shinyanga, Tanzania until June 2003 when he was assigned to the Retirement Community and returned to the United States to reside with his sister, Mary Burke in Lemont, Illinois. Brother moved to the Maryknoll Residence in Los Altos, California in February 2004 and took up permanent residency at St. Teresa's Residence, Maryknoll, New York in April 2009.
Wake services were held at 4:30 p.m. on November 22, 2011 at St. Teresa's, and at 7:30 p.m. in Queen of Apostles Chapel at Maryknoll Center where Brother Kevin Dargan officiated and Father J. Ernest Brunelle read the biography. Mass of Christian Burial was concelebrated in Queen of Apostles Chapel on November 23, 2011 at 11:00 a.m. Father Maurice Zerr was Principal Celebrant and homilist. Burial followed in Maryknoll Society Cemetery with Father Edward Dougherty conducting the graveside service.
Each Maryknoll priest is requested to offer Mass for the repose of the soul of Brother John. All Maryknollers are requested to remember him in their private and public prayers.