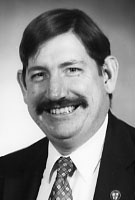 Brother John T. Mullen, MM
Born: August 16, 1951
Oath: September 30, 1989
Died: April 17, 2010
Brother John T. Mullen died on April 17, 2010 at St. Teresa's Residence, Maryknoll, New York after a brief illness. He was 58 years old and a Maryknoller for 22 years.
John Thomas Mullen was born on August 16, 1951, the first child of John T. and Margaret O'Connor Mullen in Woburn, Massachusetts. He has five sisters and three brothers. He grew up in Burlington, Massachusetts and attended Austin Preparatory School in Reading, Massachusetts. He received bachelor's degrees in Psychology from the University of Massachusetts at Amherst (1973) and in nursing from the University of Massachusetts, Boston (1986). He entered Maryknoll at the Brothers' Novitiate on September 9, 1987, and pronounced his First Oath on September 30, 1989, keeping his own name.
John completed his Overseas Training Program in Nairobi, Kenya, and before he received permission by the government to work as a nurse, he was involved as chaplain in Mater Misericordiae Hospital in Kenya and visited some small Christian communities and the sick in the local parish. He also worked at Makadara Mercy Sisters dispensary.
Beginning September 1992, John was assigned to the U.S. in the South Bronx. It was here that he worked in the Health Care Ministry with the Dominican Sisters of the Sick Poor in St. Jerome's and St. Luke's Parishes.
His African experience confirmed his vocation for him, and on June 10, 1993 Brother John pronounced his Perpetual Oath and was assigned back to the Kenya Region. On return to Kenya, he worked as a nurse of the Eastern Deanery AIDS Relief Program in Nairobi where he cared for HIV/AIDS patients in the slums.
In June 2005 Brother John took his HIV/AJDS experience in Nairobi and began an HIV/AIDS Program in Mombasa, Kenya. Here his healthcare ministry provided some relief for the local healthcare system, which was overwhelmed by the number of Kenyans living with HIV/AIDS. He helped to diagnose the sick and provide medicines along with a full-time doctor, another nurse, a lab technician and a pharmacist. This clinic offered a nutritious food supplement along with the antiretroviral drugs to patients to help increase their body weight and keep them alive.
Wake services were held at 4:30 p.m. on April 20, 2010 at St. Teresa's and at 7:30 p.m. in Queen of Apostles Chapel at Maryknoll Center where Brother Kevin Dargan officiated and Father Edward M. Wroblewski read the biography. Mass of Christian Burial was concelebrated in Queen of Apostles Chapel on April 21, 2010 at 11:00 a.m. Father Edward J. Phillips was Principal Celebrant and homilist. Burial followed in Maryknoll Society Cemetery with Father Edward M. Dougherty conducting the graveside service.