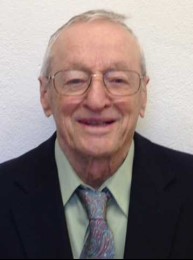 Brother Joseph Dowling, MM
Born: March 3, 1930
Oath: June 29, 1960
Died: May 21, 2021
Brother Joseph Dowling died on May 21, 2021 at the Assisted Living Center at Maryknoll, New York. He was 91 years old and a Maryknoll Brother for 60 years.
Joseph Dowling, son of Thomas and Margaret Maddock Dowling, was born in County Carlow, Ireland, on March 3, 1930. He had four brothers and three sisters. His early education took place in Ireland. He came to Minnesota in 1949, where he worked for two years before entering the United States Army. After being honorably discharged in March 1953, he became a naturalized United States citizen in March 1954. He completed his high school education at St. Paul Mechanic Art High School and also earned a Certification of Apprentice as a Journeyman Carpenter from the State of Minnesota in June 1958.
Joseph entered Maryknoll in September 1958 and was assigned to the Brothers' Novitiate in Brookline, Massachusetts in 1959. He took his First Oath in June 1960, taking the religious name of Brother Columkill (which he was known as until May 1964 when he changed back to Brother Joseph). For four years he worked at the Maryknoll Center and completed courses at the Institute of Automotive and Electricity in Westchester.
In 1965 Brother Joseph was assigned to the Philippines. After finishing language studies he was assigned to supervise the construction of the new Language School in Davao City. He served in the Philippines for the next 18 years and worked on many construction projects.
In July 1983, Brother Joseph was assigned to the Development Department and worked at the Maryknoll Houses in Philadelphia and Denver. Upon completion of this assignment and after taking a sabbatical, Brother was assigned to the Samoa Unit in September 1987. While in Samoa, he taught mechanics and electrical skills in the diocesan programs.
After attending a Brothers' Meeting in Hong Kong in early 1989, Brother Joseph stopped in the Philippines and never left. He was officially assigned back to the Philippines in August 1989 and worked at Our Lady of Victory Training Center, a home operated by the Maryknoll Sisters for handicapped patients. He was assigned to the Special Society Unit in April 1996 with continued residence in the Philippines.
After over thirty years of mission in the Philippines, Brother Joseph was assigned to the U.S. Region in September 2005. Two years later he joined the Retirement Community (now the Senior Missioner Community) and began residing at Los Altos, California. In 2019, Brother Joseph took up residence at the Society Center in Maryknoll, New York. June 2020 marked his sixtieth anniversary as a Maryknoll Brother.
Brother Dowling is survived by his brother, Thomas Dowling, Miltown Borris, County Carlow, Ireland; and by his nieces and nephews.
A Mass of Christian Burial was celebrated in Queen of Apostles Chapel at 11:00 a.m. on May 25, 2021. Father Clyde Phillips was Principal Celebrant and homilist. Father John Rich read the biography and Brother William T. Raible read the Oath. According to his wishes, Brother Dowling was cremated after his funeral and his cremains were placed in the Maryknoll Columbarium at Maryknoll, New York.