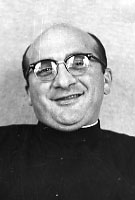 Brother Joseph J. Ziegler, MM
Born: December 10, 1925
Oath: June 29, 1954
Died: August 24, 2008
Brother Joseph Ziegler died on August 24, 2008 at St. Teresa's Residence, Maryknoll, New York. He was 82 years old and a Maryknoller Brother for 54 years.
Joseph John Ziegler was born on December 10, 1925 in the Bronx, New York, son of George Nicholas and Anna Margret Ziegler. He has four brothers and one sister, Sister Anna Marie Ziegler, a religious Sister of Christian Charity (S.C.C.). Brother attended Holy Cross Grade School in Clason Point, New York for two years before transferring to Immaculate Conception Parochial School in the Bronx, which he attended for six years. He then enrolled in the Samuel Gompers Technical High School.
He was drafted into the U.S. Navy on March 1, 1944, served aboard the USS Pasadena and received a number of citations for service in the Pacific. He was honorably discharged as a Petty Officer 3/C on July 15, 1946. After discharge he joined the local Catholic War Veterans and was elected commander. He was also president of his local Holy Name Society, and served the Catholic Youth Organization, the Boy Scouts, and his local Veterans Hospital, all while working full-time as a shipping clerk. He entered the Maryknoll Brothers Novitiate in Brookline, Massachusetts on September 27, 1952. He chose the Religious name of Brother Norbert and pronounced his First Oath of Obedience on June 29, 1954 and his Permanent Oath on June 15, 1957.
After Profession, Brother Norbert was assigned to Maryknoll College, Glen Ellyn, Illinois on June 7, 1954 where he served in boiler maintenance. On May 21, 1955 he was assigned to the Minneapolis Development House to take a course in general maintenance at the Dunwoody Institute in Minneapolis. On April 25, 1956 he was assigned to the Maryknoll Apostolic College (Venard) in Clarks Summit, Pennsylvania, as assistant boiler room attendant. On June 1, 1957 Brother Norbert was assigned to Maryknoll Seminary in Mountain View, California in charge of the heating plant and general mechanical maintenance.
On June 10, 1962, Brother Norbert was assigned to the Maryknoll Mission Region of Bolivia, South America. After Spanish language and cultural studies he was stationed in the Maryknoll parish in Riberalta in the Pando Vicariate to care for the mechanical maintenance of the church, sacristy, school and training of the altar servers. In 1969 he was transferred to La Paz Center House for a short assignment and then moved to San Roque Parish in Santa Cruz, Bolivia. After an extended home leave with his family in 1977, he returned to San Roque parish.
On April 1, 1980 Brother Norbert chose to return to the use of his baptismal name, and was now called Brother Joseph. He continued to work among the Japanese people in Santa Cruz until 1995, when he was assigned to the Special Society Unit and returned to the Society Center in Maryknoll, New York. Brother served as a Trustee on the Maryknoll Father & Brothers Charitable Trust from 1999 to 2006 and was on the Board of Directors for Maryknoll Communities, Inc. from 2000 to 2006. As his health and time permitted, Brother Joe volunteered to help out in the old Seminary Store, on the House Council and also visited the residents of St. Teresa's. His wit and imagination made him a welcome visitor. Brother was assigned to the Retirement Community in February 2001 and moved to St. Teresa's in November of that year.
Wake services were held at 4:30 p.m. on August 27, 2008 at St. Teresa's, and at 7:30 p.m. in Queen of Apostles Chapel at Maryknoll Center where Brother John Blazo officiated and Father Edward Walck read the biography. Mass of Christian Burial was concelebrated in Queen of Apostles Chapel on August 28, 2008 at 11:00 a.m. Father Kevin Hanlon was Principal Celebrant and homiuist. Burial followed in Maryknoll Society Cemetery with Father John Sivalon conducting the graveside service.