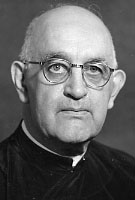 Brother Joseph L. Donahue, MM
Born: January 16, 1895
Oath: September 19, 1930
Died: November 13, 1955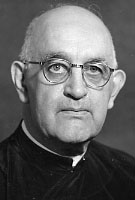 Born: January 16, 1895
Oath: September 19, 1930
Died: November 13, 1955

Joseph L. Donahue was born in Jersey City, N.J. on January 16, 1895. He entered Maryknoll in December of 1916. From 1920 to 1924 he took care of the office work at the Maryknoll Procure in San Francisco. In January, 1925 he was assigned to Korea and left in March of the same year.
After his furlough in 1935 he returned to Korea where he remained until he was interned by the Japanese at the outbreak of the war. He was repatriated on the Gripsholm and reached New York in August, 1942. After that he worked in the promotion houses at Bedford, Brookline and Philadelphia.
In 1954, Brother Joseph fell ill and was admitted to Misericordia Hospital in Philadelphia. On November 13, Brother Joseph died, fully resigned to the Will of God. Despite the handicap of an artificial leg, Brother had labored faithfully and energetically, never sparing himself in the missions or in his subsequent promotion work.
A Solemn Funeral Mass was celebrated at Maryknoll on November 16. Fr. Thomas Ray was the celebrant and Fr. Jerry Brennan, superior of the Philadelphia house, preached the sermon. The body was interred at Maryknoll, N.Y.