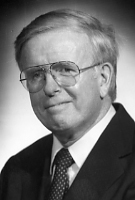 Brother Jude M. Conniff, MM
Born: October 16, 1937
Oath: June 19, 1965
Died: September 7, 2011
Brother Jude M. Conniff, M.M. died on September 7, 2011 at NYU Medical Center, New York, NY. He was 73 years old and a Maryknoll Brother for 52 years.
Henry Michael Conniff was born in Brooklyn, New York, on October 16, 1937 to Thomas and Mary E. Conniff. He was one of five children. His early schooling took place at St. Anselm's Grammar School, Bay Ridge, Brooklyn and Chelsea Vocational High School, New York City. After working for one year, he entered Maryknoll in September 1957 at Brookline, Massachusetts. In 1958 at the time of investiture, along with his Maryknoll cassock, he received the religious name, Jude, and professed his First Oath on June 29, 1959.
After Brookline, Brother Jude was assigned to Maryknoll, New York for one year, followed by assignments to Glen Ellyn, Illinois in 1960, Mountain View, California in 1966 and Maryknoll Center in 1969.
Brother Jude took his Perpetual Oath on June 19, 1965 and on July 1, 1972 was assigned to the Philippines. After eight months of language study, Brother was assigned to a remote parish in Davao Oriental. He worked with the parish youth but soon got involved with the struggle for human rights on behalf of poor farmers.
The need for people to serve in Brothers' Formation work was great, and Brother Jude was assigned to the United States and the Brothers' Formation program effective April 1, 1978. During his work in Brothers' Formation, he obtained a Bachelor's degree from the College of New Rochelle in 1982. From 1980 to 1984, Brother Jude was a member of the Governing Board of the National Association of Religious Brothers (NARB).
After a year of study at St. Louis University in 1985-86, Brother Jude was assigned to the Development Department to become a member of the new Long-Term Discernment Program being set up in Baja California, Mexico. This program came under the Vocations Office.
On August 1, 1989 Brother joined the Brothers' Formation Team with residence in the South Bronx, New York, and on January 1, 1990 he was appointed Director of the Brothers' Formation program.
Brother Jude was reassigned to the Philippines in September 1992 and was engaged in the work of the Apostleship of the Sea as Regional Coordinator for East Asia. A.O.S is the Catholic response to the people of the sea: seafarers, fishermen and their families. He was very dedicated and hardworking, putting in long hours, which often stretched into late evenings. Brother was also the Asia-Pacific Representative on the Brothers' Service Team, as well as the person involved with Migrant Ministry for the Philippine Region.
In September 2005, Brother Jude was reassigned to the U.S. Region to work as part of the pastoral team at St. Teresa's Residence at Maryknoll, New York. Effective January 1, 2010, he was appointed Assistant Director of the Maryknoll Society House in New York City. He also served on the Extended Leadership Board as the Brothers' Representative since his appointment in May, 2009.
Brother Jude prayed at his Jubilee in appreciation: "I am not apprehensive about tomorrow, because I have seen yesterday – and I am involved with today! Mindful of Him who began this good work in me will bring it to a good conclusion."
Wake services were held at 4:30 p.m. on Monday, September 12, 2011 at St. Teresa's, and at 7:30 p.m. in Queen of Apostles Chapel at Maryknoll Center where Brother Wayne J. Fitzpatrick officiated and Father Ernest Lukaschek read the biography. Mass of Christian Burial was concelebrated in Queen of Apostles Chapel on Tuesday, September 13, 2011 at 11:00 a.m. Father Francis T. McGourn was Principal Celebrant and Brother John Blazo, homilist. Burial followed in Maryknoll Society Cemetery with Father Paul R. Masson, conducting the graveside service.