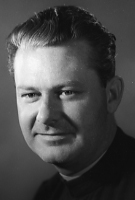 Brother Justin R. Joyce, MM
Born: February 21, 1925
Oath: June 29, 1949
Died: April 27, 2002
Brother Justin Joyce died at St. Teresa's Residence on Saturday, April 27, 2002. He was 77 years old and a Maryknoll Brother for 53 years.
Ernest Raymond Joyce, the third of four sons born to John and Catherine Murray Joyce, was born on February 21, 1925, in Fitchburg, Massachusetts. He graduated from St. John's Grade School and St. Bernard's High School in Fitchburg. Immediately after graduation from high school in 1943 he was drafted into the U.S. Navy, where he served until 1946 when he was honorably discharged as a 2nd Class Petty Officer.
Ernest worked for a short time in New York and Massachusetts in business management before entering Maryknoll on December 1, 1947. He wrote at the time of his application to Maryknoll: "my first awakening to the Foreign Mission cause came during my grammar school years, where we were encouraged by the Sisters to make sacrifices to bring souls to Christ. In later years, the news that a family friend had entered the Maryknoll Sisters brought forth in my mind great admiration for this young woman who wished to devote her life for others in mission lands. During the war I was stationed in Africa where the sight of children begging for food and sickness and poverty in the extreme were daily occurrences.. .unable to keep from my mind the idea of becoming a missioner, I wrote to the Vocation Director for further information on the Brothers. The stories of young American missioners giving themselves to God by bringing Him to others who knew Him not; helping them not only spiritually but physically; and bearing joyfully the hardships in lands where the comforts of home were totally absent, seemed to me to be going all the way for Christ." On June 29, 1949 he pronounced his First Oath of Obedience, taking the religious name of Brother Justin. Brother pronounced his Permanent Oath of Obedience on June 21, 1952.
Brother Justin was first assigned to the Brookline Promotion House in Massachusetts. On May 21, 1955, he was assigned to Maryknoll's mission in Korea where he served for the next twenty-one years as Administrative Assistant to Bishop McNaughton and several Superiors in the Region. He was deeply appreciated for his service and ministry. He always provided an environment of welcome and hospitality for Maryknollers and guests. In so many formal and informal ways he was mentor to many Maryknoll Missioners. During an extended furlough in 1976 he served in the Development House in Chestnut Hill, Massachusetts. On April 18, 1980, he was recalled to the United States Region and assigned to the Controller's Office as Mission Accounts Supervisor. Brother remained in the Controllers Office for a short period before being assigned to the Development Department and the Task Force for Vocation Recruitment in June 1981. Brother was reassigned to the Korea Region on July 6, 1983 and was Financial Director for the Region. He was again recalled to the United States to work in the Controller's Office in September 1989. Brother left the Controller's Office in April 1991 to accept an assignment to Los Altos, California. However, in March 1992, he returned overseas again, this time to Nairobi, Kenya to be the financial officer for the Region.
Brother Justin entered the Special Society Unit on January 1, 1994 and returned to the United States and Maryknoll, New York. In August 1995 he returned to Korea, but due to health reasons was forced to return to the United States in July 1996 to take up residence at St. Teresa's.
Brother Justin was a tremendous and joyful presence at Maryknoll and we will miss that enormously. He had many gifts and one was to gather people. Even on a difficult day he was able to bring some joy, laughter and humor into our lives. He loved Maryknoll, his vocation and fellow Maryknollers very much. He knew many of the employees here at the Center who will also miss Brother. Each and every one of us can tell a few stories of how Brother Justin touched our lives with his smile, compassion, love and humor. He was truly a Brother and friend to us all. We are all better people for having known him.
Wake services were held at 4:30 p.m. on April 30, 2002 at St. Teresa's, with Father John Huder officiating, and at 7:30 p.m. in Queen of Apostles Chapel at Maryknoll Center where Father Michael Duggan officiated and Brother DePorres Stilp read the biography. Mass of Christian Burial was concelebrated in Queen of Apostles Chapel on May 1, 2002 at 11:00 a.m. Bishop William J. McNaughton was Principal Celebrant and Father Thomas McDonnell homilist. Burial, with military honors, followed in Maryknoll Society Cemetery with Father Jeremiah Burr conducting the graveside service.