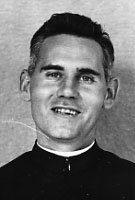 Brother Kieran Stretton, MM
Born: October 18, 1923
Oath: June 26, 1953
Died: November 13, 2010
Brother Kieran J. Stretton died on November 13, 2010 at St. Teresa's Residence. He was 87 years old and a Maryknoll brother for 60 years.
John Joseph Stretton, one of four children of John and Margaret Cooley Stretton, was born in Brooklyn, New York, on October 18, 1923. He graduated from Brooklyn Vocational High School. He joined the United States Marine Corps on March 10, 1943 and served in the Asiatic Pacific Area, and was honorably discharged as a Corporal on April 1, 1946. Before entering Maryknoll, he attended night school at Manhattan College, run by the Christian Brothers, from 1946 to 1948, and it was their influence that prompted John to enter Maryknoll. He entered Maryknoll Brothers Novitiate, Akron, Ohio on October 1, 1948 and on June 29, 1950 pronounced his First Oath of Allegiance, choosing the religious name of Brother Kieran. He pronounced his final oath on June 26, 1953.
In June 1950 Brother Kieran was assigned to Maryknoll College, Glen Ellyn, Illinois and worked in the boiler room for two years, after which he was transferred to Maryknoll Junior Seminary, Los Altos California and worked in various maintenance jobs for six years. On September 3, 1958 he was assigned to Maryknoll's St. Francis Xavier Mission in Los Angeles for a three-year term. On March 29, 1961 Brother Kieran received his first foreign mission assignment to Maryknoll's mission in Shinyanga, Tanzania, Africa. He served there for six years in general maintenance work at St. Pius Seminary. He was also on a medical team run by a Maryknoll Sister that brought medical treatment to people out in the bush. In November 1977 Brother Kieran was transferred to the United States and worked in Physical Plant maintenance at Maryknoll Center, New York.
Brother Kieran was assigned to the Maryknoll Brothers Mission Unit in Apia, Western Samoa on July 1, 1980 and remained there until December 1984 when he was assigned to the Hong Kong Region and work at the Maryknoll Center House in Stanley, Hong Kong. While at the Stanley House, Brother assisted in some of the guestmaster chores and also worked at the Caritas Catholic School for handicapped children and was nominated by the people there for a Community Welfare Award.
In January 1999, Brother Kieran returned to the United States for medical treatment and took up residence at St. Teresa's. In April 2001 he was assigned to the Retirement Community.
Wake services were held at 4:30 p.m. on Wednesday, November 17, 2010 at St. Teresa's Residence, with Father Emile Dumas officiating and at 7:30 p.m. in Queen of Apostles Chapel at Maryknoll Center where Brother Kevin Dargan officiated and Brother Thomas Hickey read the biography. Mass of Christian Burial was concelebrated in Queen of Apostles Chapel on Thursday, November 18, 2010 at 11:00 a.m. Father Maurice Zerr was Principal Celebrant and Father Robert Lefebvre homilist. Burial followed in the Maryknoll Society Cemetery with Father Edward Dougherty conducting the graveside service.