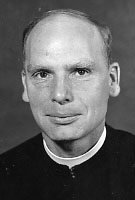 Brother Leon Cook, MM
Born: February 10, 1918
Oath: June 29, 1952
Died: July 16, 2010
Brother Leon Cook died on July 16, 2010 at St. Teresa's Residence, Maryknoll, New York. He was 92 years old and a Maryknoll Brother for 58 years.
Sylvester John Cook was born on February 10, 1918, in Pewamo, Michigan, son of Edward and Elizabeth Cook. He had four brothers and two sisters. He attended St. Joseph Parochial School for six years and Kimboll Public School for two years and then worked on his family's 250-acre farm. He always remained a farmer at heart. He served in the U.S. Army as a Corporal for three years and saw combat duty in New Guinea, Guadalcanal, Northern Solomon Islands and Southern Philippines. He was honorably discharged on October 9, 1945 at Fort Sheridan, Illinois and worked for five years on the family farm. He pursued his hobby of trapping furbearing animals and mounting some for display use.
Attracted to Maryknoll through the Maryknoll Magazine, which he read while cows were milked with a mechanical milker, he entered the Maryknoll Society on December 31, 1950, pronounced his First Oath of Obedience and took the religious name of Brother Leon on June 29, 1952 at the Brothers Novitiate in Brookline, Massachusetts.
After Novitiate he studied agriculture at the Walpole Agriculture School in Walpole, Massachusetts. He was assigned to Maryknoll Center in New York and gained an excellent reputation for his work on the farm for six years. In May of 1959 he was assigned to the Maryknoll House in St. Louis, Missouri for three years and worked on landscaping Maryknoll's new minor seminary at Chesterfield. He transferred to Maryknoll College, Glen Ellyn, Illinois for a few months in 1962. In late September of 1962 he was transferred to the Maryknoll Novitiate at Hingham, Massachusetts for maintenance of the property. While he served there, he spent two months of each year in Maryknoll's mission in Guatemala and assisted the Maryknoll Brothers and Priests in special agriculture projects in the Huehuetenango Diocese and also in the Peten District. Finally on March 21, 1975 at age 57, Brother Leon was given a permanent assignment to Maryknoll's Central America Mission Region for work in Guatemala. After language and cultural studies in Cochabamba, Bolivia, he helped repair the damage caused by the 1976 earthquake in Guatemala. He assisted in cleanup work in two towns outside of Guatemala City for five months and then helped a Canadian priest in the Department of Zacapa, build roads in the area.
Brother Leon's work in the Poptun, Peten mission area was to aid the farming people to improve their crops with garden seeds, and he instructed them on how to improve their livelihood. He continued this work full time until he retired in January 1998 and then on a limited basis, until his return to the United States and the Center in May 2003. He continued to help support the mission church with a certain special "paravocation" he took on at about the same time that he became a religious Brother. He collected insects and sold them to biological supply companies. He estimated that he dealt with forty-to-fifty species of bugs, which of course he was able to distinguish and identify.
In November 2003 he was assigned to the Retirement Community and on November 21, 2003 was appointed Coordinator of the Ecological Assessment for the Center properties by Father John Sivalon. Brother continued to work in this position until January 2007 when he moved to St. Teresa's Residence.
Wake services were held at 4:30 p.m. on July 22, 2010 at St. Teresa's and at 7:30 p.m. in Queen of Apostles Chapel at Maryknoll Center where Father Joseph P. La Mar officiated and Brother John H. Frangenberg read the biography. Mass of Christian Burial was concelebrated in Queen of Apostles Chapel on July 23, 2010 at 11:00 a.m. Father Joseph P. La Mar was Principal Celebrant and homilist. Burial followed in Maryknoll Society Cemetery with Father Paul R. Masson, who conducted the graveside service.