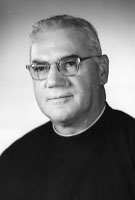 Brother Louis J. Uttendorfer, MM
Born: February 3, 1912
Oath: September 29, 1942
Died: October 11, 1995
Brother Louis Uttendorfer died at St. Teresa's Residence, Maryknoll, New York, at 8:45 a.m. on Wednesday, October 11, 1995. He was 83 years old and a Maryknoll Brother for 59 years.
Louis James Uttendorfer was born in Brooklyn, New York, on February 3, 1912, son of Louis Uttendorfer and Jennie Sheridan Uttendorfer. He had two brothers, Ernest and David, and one sister, Helen. After 8 years of grammar school at Our Lady of Good Counsel in Brooklyn and 4 years at Alexander Hamilton High School, Louis studied accounting for one year at New York University and then worked as a clerk at the Central Hanover Bank & Trust Company for four years.
Louis became interested in Maryknoll through The Venard Club in Brooklyn and applied for admission to the Maryknoll Brothers – then known as The Foreign Mission Brothers of St. Michael – on May 18, 1934. He entered the Society at Maryknoll, New York, on July 1st that same year and took his Perpetual Oath to the Society on September 29, 1942, taking the Religious name of Alexis. When the Maryknoll Brothers were given the choice to reassume their baptismal names in 1969, he opted to do so.
Brother Louis' first assignment on February 2,1936 was to the Development (then Promotion) Office at the Maryknoll Novitiate in Bedford Massachusetts, where he worked for four years before being transferred to similar work in San Francisco, California. In 1942 he served briefly in Detroit, Michigan and later that year was assigned back to Bedford.
Brother Louis was assigned to the Maryknoll Mission Region of Peru on April 30, 1946. In preparation for his mission work, the General Council arranged for him to attended the four-week Institute in Social Work in the Missions in St. Louis, Missouri and to spend some time in training at the diesel plant of the R.H. Sheppard Co., Inc. in Hanover, Pennsylvania. He left the United States on November 3 to take up his mission assignment in Peru where he served in San Ambrosio School and Seminary in Puno.
After home leave in 1953, Brother Louis returned to Peru and was assigned to the parish of Our Sorrowful Mother in Arequipa. His clerical skills were put to the test when he was given the task of transcribing the audio recordings of the First Lima Conference in 1954. It was a long and tedious job, and he wore out two electric typewriters before it was successfully completed.
Brother Louis was then assigned to the St. Rose of Lima Parish, in Lima, Peru, in March, 1958, where he started the boys section of the High School and held responsible positions on the faculty (where he carried twenty-five class hours a week) and in the administration of the parish school.
In March 1960, Brotber Louis cut his scheduled six-months home leave (which began on December 1, 1959) by a month so that he could return to Lima in time for the opening of the school year on April 1st. In 1963, due to bronchial problems, aggravated by the damp Lima climate, Brother Louis was assigned again to Arequipa, which is in a desert area at a higher altitude and thus has a drier climate. In August of 1964 he returned, however, to St. Rose's Parish in Lima where he did secretarial work for the parish and school and also worked with helping to set up a local promotion office.
On December 18, 1967, Brother Louis was assigned to Maryknoll Center, New York, where he held a variety of secretarial posts. His last position before entering the Special Society Unit was in the Society Archives.
By his own account, and attested to by others, Brother Louis contributed a variety of skills to the Society and mission. His avocations of the violin and expert carpentry contributed to the diversion and the practical needs of any Maryknoll House that he was assigned to.
Although Brother tended to minimize his own contributions to the Society and his 21 years of mission work in Peru, his skills and abilities were highly appreciated by all who worked with him. The Regional Superior in Peru wrote him after his departure: "I want you to know how you are appreciated and valued in this Region by the many men here who know you so well. It should be no small consolation to you to realize that you indeed left your mark here on many people and that the Church is better for it today. You demonstrate some beautiful qualities of the true Maryknoller and missioner."
Brother Louis was assigned to the Special Society Unit on June 15, 1983 with continued residence at Maryknoll Center, New York. Due to declining health and mobility, Brother Louis moved from the Seminary Building to St. Teresa's residence on September 28, 1994.
Wake services were held for Brother Louis on Thursday, October 12, 1995 at 7:00 p.m. at St. Teresa's Residence and at 7:30 p.m. in the Queen of Apostles Chapel at Maryknoll Center, New York. Mass of Christian Burial was concelebrated on Friday, October 13th in the Queen of Apostles Chapel at 11:30 a.m. The Principal Celebrant was Father Charles Huegelmeyer and the homily was given by Father John Halbert. Bro. Wayne Fitzpatrick officiated at the interment which followed at Maryknoll Cemetery.