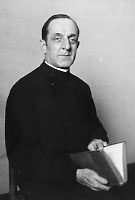 Brother Louis Reinhart, MM
Born: August 16, 1872
Oath: November 13, 1940
Died: September 8, 1957
Louis Reinhart was born in Cincinnati, Ohio on August 16, 1872. He entered Maryknoll on May 25, 1926 at the age of 54 after 25 years as an actor. He edified all by his readiness to enter upon the religious life and by his alacrity in following all the community exercises. His eye for harmony led him to redecorate several of the oratories in the seminary.
In 1928 Maryknoll was asked to staff the mission of San Juan Bautista in California. The fine old mission church and the grounds were in a sad state of disrepair. Brother Louis was assigned to assist the pastor in restoring the mission. His tremendous store of energy soon had the mission and grounds in such good shape that tourists made it one of their stopovers. Brother Louis was always happy to take them around and explain the history of the old mission.
When San Juan Bautista was taken over again by the Diocese in 1946, Brother was transferred to Mountain View where he assisted in the kitchen and took care of many other jobs in addition.
Although he suffered from continued health issues, he was unwilling to ease up, saying that he would be lost if he did not have something to do. Faithful to the performance of his duties and humble to the end, he was an example to all the community.
However, despite his refusal to rest, the years were taking their toll, and he died on September 8, 1957. Funeral and burial were at Mountain View.