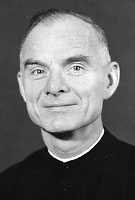 Brother Marius Donnelly, MM
Born: July 15, 1907
Oath: September 22, 1932
Died: February 29, 1996
Brother Marius Donnelly died at Phelps Memorial Hospital, Tarrytown, New York at 12:45 a.m. on Thursday, February 29,1996. Brother Marius was 88 years of age and a Maryknoll Brother for 65 years.
Gerald Joseph Donnelly was born on July 15, 1907 in Jersey City, New Jersey, son of Bernard J. and Mary Ellen O'Rourke Donnelly. He had two brothers and six sisters. Gerald studied at Public School 19 for four years and Public School 22 for four years and graduated from Lincoln High School in Jersey City. He took a one semester course at New York University School of Commerce. From 1924 to 1927 he worked as a clerk at the Public Service Garage in Newark; and from 1927 to 1929 he worked for the Bell Telephone Company in Newark. During those years he joined the New Jersey National Guard, took the officer's training course and served as a First Sergeant until 1929.
Gerald entered the Society and the Maryknoll Brothers on November 11,1930 at Maryknoll, New York. He pronounced his First Oath of Obedience and took the religious name of Brother Marius on September 22, 1932. He pronounced his Permanent Oath at Sacred Heart Church in Honolulu, Hawaii on September 29, 1938. In 1932 Brother Marius was assigned to the Maryknoll mission in Hawaii and his work all centered at Sacred Heart Parish, Honolulu, for the next thirteen years. In the parish he was all around sexton, bus driver, and handy man on call for many little jobs. On September 10, 1932 Bishop James Anthony Walsh wrote to Brother Marius shortly after his arrival in Hawaii. Bishop Walsh writes: "I am glad to learn from your letter of August 23 that your first experience in your new assignment have been so pleasant…working under Brother Philip's auspices was an excellent introduction to the work. The Brothers here are all well and in good. spirits. I am sure that you are going to find
your work in Honolulu increasingly interesting, and know it will be a fine outlet for your zeal."
Brother Marius served a year in the Promotion House in Seattle, Washington in 1945, then he was assigned to Maryknoll, New York, in December of 1946. For the next eleven years he worked in the Porter's Lodge receiving visitors to Maryknoll, as a part time chauffeur, and for many years as the driver of the mail truck, thus serving the Center Community. He was assigned to St. Francis Xavier Japanese Mission in Los Angeles, California, in 1958, as the bus driver for the school children. He was recalled to Maryknoll Center in September of 1960 and resumed his former duties. In August of 1968 he was assigned to St. Teresa's Residence.
In early 1975 Brother Marius requested formal retirement. On February 7, 1975 he was enrolled in the Special Society Unit by Father Raymond Hill, Superior General. In Father Hill's assignment letter to Brother Marius on February 6, 1975 he wrote – "The General Council is most happy to recognize your request for formal retirement. I take this opportunity to express the gratitude and appreciation of the Society for your many years of dedicated service, as well as for the wonderful example you have given to us, and for the spirit of cooperation you have shown to all at St. Teresa's."
Wake Services were held on March 4, 1996 at St. Teresa's Residence Chapel at 7:00 p.m. and at the Queen of Apostles Chapel at the Society Center, Maryknoll, New York at 7:30 p.m. Mass of Christian Burial was concelebrated the following day, March 5, in Queen of Apostles Chapel at 11:30 a.m. The Principal Celebrant was Father Robert Reiley and the Homilist was Father James Nieckarz. Graveside Service was conducted by Brother Wayne Fitzpatrick and interment followed at the Maryknoll Cemetery.