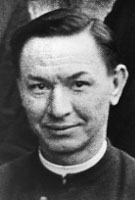 Brother Mark Dance, MM
Born: March 14, 1883
Oath: September 2, 1930
Died: March 3, 1943
Edmund A. Dance (Brother Mark) was born in Sunningdale, Berkshire, England on March 14, 1883 and attended the local schools during his youth. While still young he went to sea and became a chef. Eventually he moved to Canada where he and his wife stayed for some years. They later moved to Chicago where they became interested in the Catholic Faith and were eventually baptized.
So strong was his faith that he and his wife separated by mutual consent so that he could follow his desire to serve God in a religious community. He became interested in Maryknoll, and in 1923 was accepted. Two years later he was admitted to the first temporary oath and in 1930 he took his Perpetual Oath.
Nearly all his life he was afflicted with poor health, which brought suffering to him almost daily. Yet none of the other Society members ever heard him complain about this. During the twenty years he was a Maryknoller, Brother Mark put in faithful service at Maryknoll, the Venard, our house of studies in Washington, D.C. and finally at Los Altos.
In 1941 Brother's became more seriously ill. His deep affection for the members of the Society was one of his outstanding virtues. He never ceased to marvel at the steady development of the students and Brothers. The missioners were particularly his beloved brethren. His docility and energetic service made him a real asset to local superiors. He delighted in little acts of kindness to brighten the festive occasions of the community.
On March 3, 1943, Brother Mark died peacefully at Los Altos and he was buried on the seminary grounds there.