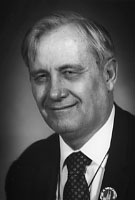 Brother Marvin J. Mayberger, MM
Born: May 25, 1933
Oath: June 29, 1957
Died: January 9, 2002
Brother Marvin J. Mayberger died at St. Teresa's Residence in the evening of January 9, 2002. He was 68 years old and a Maryknoll brother for 44 years.
Marvin was born in Beliwood, Nebraska on May 25, 1933. The son of Joseph and Lillian Oppliger Mayberger. He has two brothers, one of whom is his twin, and one sister. After high school he joined the U.S. Navy and was Honorably Discharged.
In October 1955 he wrote a letter to Maryknoll from the Naval Base in Corpus Christi, Texas. Marvin went on to say "I am interested in becoming a Maryknoll Brother because of the type of mission work they do. I myself am interested in farming and mechanics, but can adapt myself to any kind of work assigned to me. The reason always comes up for wanting to become a religious, as you probably know is to save my own soul and help others learn about God."
In 1956 he joined Maryknoll as a Postulant Brother. He took his First Oath on June 29, 1957 and took the name of Brother Isidore. He took his Final Oath on June 11, 1960.
After technical training in the United States, in 1961 Brother Mayberger was assigned to the Maryknoll Mission Region in Chile where he worked at the Maryknoll Agricultural School in Molina, He was in charge of field crops and farm machinery, and he also taught mechanics at the school.
In 1967 he was assigned to the United States Region, where he was engaged in a variety of work, including carpentry and woodworking. For a period of time he taught these skills to youngsters at the Ossining Children's Center. In 1975 Brother Marvin was assigned to Maryknoll Residence at Mountain View. California. In 1982 he was reassigned to Chile and in 1983 he was assigned again to the United States Region. Brother Marvin was living at St. Teresa's Residence at Maryknoll, New York at the time of his death.
In April 1972 Maryknoll Magazine featured a story on Brother Marvin entitled "Man of Many Talents." The article stated "Brother Marvin is a big man with gentle ways and an open heart to people in need – people suffering from an addiction, children from broken homes, and almost anyone else who needs a strong shoulder or kind words. Seeing him driving tractors, repairing machinery, caring for plants and shrubs at Maryknoll, one would never guess the depth of his warmth, motivation and concern." Those who knew Brother Marvin were aware of the struggles and difficulties he experienced throughout his life. In the April 1972 article Brother Marvin stated, "That illness made me more sensitive to the suffering of others. I understand that helplessness and the need for expressions of kindness and patience. I am a more compassionate person for the experience. I think a person who really knows himself, with his strengths and weaknesses, is in an excellent position to help others."
Many Maryknollers and employees knew Brother Marvin. He was a man who loved Maryknoll, his vocation, the Maryknoll community and most of all his family back home in Nebraska. We will remember Brother Marvin for his wonderful smile, laughter and concern for others.
Wake services were held on January 11, 2002 at 4:30 p.m. at St. Teresa's, and at 7:30 p.m. at Our Lady Queen of Apostles Chapel at Maryknoll Center where Father Alan J. Ryan officiated. Brother Marvin's biography was read by Brother Donald R. Miriani. Mass of Christian Burial was concelebrated at Our Lady Queen of Apostles Chapel on January 12, 2002 at 11:00 a.m. Father John P. Hudert was Principal Celebrant and Brother Wayne Fitzpatrick shared a reflection after the Gospel. The oath was read by Brother Kevin F. Dargan. Burial followed at Maryknoll Center Cemetery with Father Raymond J. Finch conducting the graveside service.