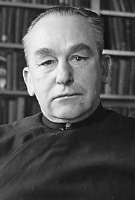 Brother Nicholas Connolly, MM
Born: September 8, 1893
Oath: September 2, 1930
Died: December 22, 1948
John Connolly was born in the town of Livermore, California on September 8, 1893. He served in the U.S. Army during the first World War, part of the time in the front line trenches.
He applied to Maryknoll to enter the Brothers of St. Michael and was accepted in 1926, took his first Oath in 1930 and the Perpetual Oath in 1933. His early years in the Society were spent working in our houses on the West Coast. Later he was transferred to the Venard and finally to the Center where he had been serving in various capacities since 1939.
He attributed the inspiration for his vocation to his sister who had entered the Sisters of Notre Dame.
The end came quietly and gently on Christmas Eve as they were saying the words of Our Blessed Mother: "Be it done unto me according to Thy word."
The funeral Mass and burial were at Maryknoll, N.Y.