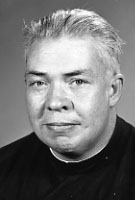 Brother Owen Walsh, MM
Born: July 26, 1921
Oath: June 29, 1949
Died: May 19, 2004
Brother Owen Walsh died on May 19, 2004 at St. Teresa's Residence, Maryknoll, New York. He was 82 years old and a Maryknoll Brother for 54 years.
William Patrick Walsh was born on July 26, 1921 in Chicago, Illinois, son of Patrick and Catherine Donahue Walsh. He attended St. Brendan's and St. Agnes Parochial schools in Chicago, and graduated from Manhattan High School in New York City. After graduation in 1940, he worked at United Aircraft Company for 3 1/2 years, and in 1943 he entered the U.S. Navy, serving in the Pacific Theater of Operations during World War II. He served as a Seabee – a term derived from the Naval designation: Construction Battalion, the men and women who engineered and constructed, among other things, the well-known Quonset Huts of World War II. The Seabees liked the description, "a soldier in a sailor's uniform, with Marine training, doing civilian work at WPA wages." Their logo became the Bumble Bee, partly due to their nickname, Seabees, but mostly because of their ceaseless and heroic contributions during the war effort. Brother Owen continued to live up to that description throughout his life. He was honorably discharged as a Metalsmith 3rd Class on May 13, 1946. After his discharge, he returned to United Aircraft Company, where he worked until he entered Maryknoll in 1947.
Brother entered the Maryknoll Society on August 15, 1947 and pronounced his First Oath of Obedience at the Brothers' Novitiate in Akron, Ohio on June 29, 1949, taking the Religious name of Brother Owen. After novitiate he was assigned to Maryknoll Apostolic College, Clarks Summit, Pennsylvania where he provided Physical Plant expertise. In May 1952 he was assigned to the Maryknoll Mission in the Pando Vicariate, Bolivia. Brother Owen worked in Riberalta and Cochabamba maintaining the valuable riverboat fleet with mechanical and carpentry work. He served there until his recall to the United States in 1956, when he was assigned to Maryknoll's Japanese Mission in Los Angeles, California for a year and a half. While serving in the Japanese Mission he was assigned to driving school buses for the children.
In May 1958 Brother Owen was transferred to Maryknoll Center, New York, where he worked for many years in general maintenance and the Mission Shipping Department. Container cargo shipments required a three-letter code as well as a numerical designation. BOW became the letter code and many of those containers provided housing in East Africa and around the world. Many families would never appreciate the fact that the large lettering on the side of their home stood for Brother Owen Walsh! On April 22, 1982, at the age of 62, Brother Owen was assigned to Maryknoll Residence, Los Altos, California, to once again assist in the care and maintenance of our home there.
Brother Owen was transferred to St. Teresa's Residence, New York, in December 1985, and on February 17, 1987 enrolled in the Retirement Community with residence at St. Teresa's. A gracious and prayerful Seabee to the end, Brother Owen was always busy. Someone who knew him very well said that his greatest virtue was perseverance. Till a few days before he died, Brother Owen distributed the mail three times a day, had a quiet and kind word for everyone and, knowing himself to be short-tempered, he led a quiet and prayerful life. He will be greatly missed!
Wake services were held at 4:30 p.m. on May 27, 2004 at St. Teresa's, and at 7:30 p.m. in Queen of Apostles Chapel at Maryknoll Center where Father William Coy officiated and Brother Eugene Casper read the biography. Mass of Christian Burial was concelebrated in Queen of Apostles Chapel on May 28, 2004 at 11:00 a.m. Father Francis McGourn was Principal Celebrant and Father Thomas McDonnell homilist. Burial followed in Maryknoll Society Cemetery with Father John Barth conducting the graveside service.