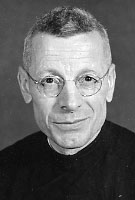 Brother Paul L. Chamberlain, MM
Born: July 7, 1903
Oath: November 1, 1930
Died: February 2, 1996
Brother Paul Chamberlain died at St. Teresa's Residence, Maryknoll, New York, at 6:05 P.M. on Friday, February 2, 1996. He was 92 years of age and a Maryknoll Brother for 69 years.
Paul Chamberlain was born on July 7, 1903, in Dedham, Massachusetts, son of Anthony and Caroline Francoeur Chamberlain. He attended 9 years of grade school in Dedham and 1 year of Boston Trade School. On the recommendation of his Pastor, he was encouraged by Father James Anthony Walsh to "make a trial" at the Society's Preparatory College (Venard) in Clarks Summit, Pennsylvania, in September 1925. In June 1926, he applied for entrance into the Foreign Mission Brothers of Saint Michael – the group that later became the Maryknoll Brothers – and took the religious name of Brother Paul. He took his Final Oath on November 1, 1931.
Brother Paul had great respect and affection for Bishop James Anthony Walsh. On April 6, 1936 Brother Paul wrote a letter to Bishop James Anthony Walsh who was in failing health. Brother Paul writes – "Accept this brief letter as a personal remembrance of you. Perhaps you are disappointed to find yourself unable to celebrate this Easter with all your faculties. I do believe that God is more pleased to accept the offerings which you give from your private sanctuary in bed. Please God help our Father General and give him a greater love for sacrifice." A few weeks later Brother Paul received a letter from Father Drought. Father Drought writes – "You will be happy to know that your letter of April 6 was read to dear Father General on the eve of his passing. He said "I am pleased to hear from Brother Paul and I am sorry that I cannot answer his letter personally – tell him that it is not so much in external cooperation in the work of the Church that God is glorified, as in the patient bearing of suffering: this is a gift which we should pray for frequently." Father Drought continues "I know that your recent visit to Father General will always be a precious memory."
Brother Paul was first assigned on March 1, 1936 to St. Francis Xavier Japanese Mission in Los Angeles and served the Japanese people there during the very difficult years of World War II. He spent six years at Maryknoll College, Lakewood, New Jersey and later completed assignments at Maryknoll Center in New York and Maryknoll Apostolic College(Venard), Clarks Summit, Pennsylvania. In 1968 he served at Maryknoll Novitiate, first in Hingham and then in Cambridge, Massachusetts until it was closed. In 1986 he returned to Maryknoll Center in New York where he continued to reside and work.
In his early years, Brother Paul developed his natural talent for carpentry through his own initiative and through the years became a master carpenter, providing immeasurable service to the Society in the various Houses where he was assigned.
During his years at Hingham and Cambridge, Massachusetts, Brother Paul became active in supporting various social causes by participating in fund-raising walks. In recent years at Maryknoll, New York, he had been a weekly Pro-Life demonstrator in Dobbs Ferry, New York.
Brother Paul considered his whole life as service in response to the Lord's call to serve Maryknoll and the Church. He looked on his service as a great experience of faith and hope for himself as a good and faithful servant. However, on June 1, 1995, he was given a Mission Cross in honor of his mission commitment, mission vocation and accomplishments. Brother Paul entered the Special Society Unit on July 15, 1979, with residence at Maryknoll, New York.
During his last days at St. Teresa's Residence he wrote a letter to all Maryknollers dated January 5, 1996. Brother Paul writes: "Dear Maryknollers, Farewell, may we meet in Heaven…let's keep trying as we are born to eternal life. Please sing that beautiful hymn "The Bread of Finest Wheat" then forget the long discourse concerning my life. My relatives may not attend but don't wonder why because I've visited them through the years and I know they admired what I always engaged in.. I had a good life. Many thanks to Maryknoll who sponsored my special trip to the Holy Land and Rome. Most grateful for the medical care and even going to three Hospitals to be repaired for a few more miles. Bye now and God Bless all. Peace be with you – Paul of Maryknoll. Last but not least thank you for the Mission Cross."
Wake Services were held on February 5, 1996 at St. Teresa's Residence Chapel at 7:00 p.m. and at the Queen of Apostles Chapel at the Maryknoll Center, New York, at 7:30 p.m. Mass of Christian Burial was concelebrated on February 6, 1996, in Queen of Apostles Chapel at 11:30 a.m. The Principal Celebrant was Father Kenneth Thesing and reflections were given by Brother Wayne J. Fitzpatrick. Interment followed at the Maryknoll Cemetery.