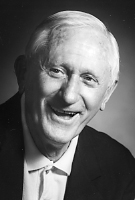 Brother Peter J. Agnone, MM
Born: July 9, 1927
Oath: August 30, 1948
Died: April 12, 2014
Brother Peter Agnone died on April 12, 2014 at Phelps Memorial Hospital, Sleepy Hollow, New York. He was 86 years old and a Maryknoll Brother for 65 years.
John Joseph Agnone was born in Winchester, Massachusetts on July 9, 1927, son of Francis and Mary McNelly Agnone.  John had two brothers who are deceased.  He graduated from PlymouthHigh School in June of 1945 and enlisted in the U.S. Navy.  He entered Maryknoll Society on January 6, 1947.  After his Novitiate year in Akron, Ohio, he pronounced his First Oath of Obedience on August 30, 1948 and chose the Religious name of Brother Peter.  He took his Final Oath on August 30, 1951.
Brother Peter was assigned to the Bedford Promotion Office in 1948 for one year and then to MaryknollCollege, Glen Ellyn, Illinois, on June 4, 1949.  In 1951 he was assigned to Maryknoll Junior Seminary at Los   Altos, California for office work and then to the MaryknollCenter in New York.  Brother Peter was missioned to Musoma, Tanzania, on May 7, 1954 and remained there for eleven years until he was recalled to Maryknoll Center in March 1965.  He spent a year studying Liberal Arts courses at WestchesterCommunity College.  Next, he was assigned to the Maryknoll Residence at Los    Altos, California in September 1969 and transferred to St. Teresa's Residence in December 1973 to assist the Director.  On September 29, 1975 Brother Peter was assigned to the new Brothers' Mission Unit in Western Samoa and remained there for seven years.  He was then assigned to the Procurator General's office at Collegio Maryknoll in Rome, Italy.  The Superior General wrote to Brother Peter after his assignment was completed in Rome and said, "You have served everyone and done it with humor and good will."
In 1987 he was assigned to the Brothers' Formation Program at Kitchawan, New York.  On January 1, 1995 Brother Peter was assigned to the Kenya Region, where he worked at the Ukweli Home of Hope in Nairobi.  The Regional Superior of Kenya wrote of Brother Peter, "He not only does a very good ministry, but is an inspiration to all of us with his energy, optimism, and kindness." In 1996 he was elected a Chapter Delegate to the Tenth General Chapter in Hong Kong.
Brother Peter returned to the United States in April, 2003 and was assigned to the Retirement Community in September 2003.  He took up residence at Mission St. Teresa's, where he worked for many years in the Mail Room, sorting and distributing mail to the residents.
Wake services were held at 4:30 p.m. on April 21, 2014 at St. Teresa's, and at 7:30 p.m. in Queen of Apostles Chapel at Maryknoll Center where Brother Kevin Dargan officiated and Brother Brendan Corkery read the biography.  Mass of Christian Burial was concelebrated in Queen of Apostles Chapel on April 22, 2014 at 11:00 a.m.   Father Michael Duggan was Principal Celebrant and homilist, with a reflection by Brother Wayne Fitzpatrick.  Burial followed in Maryknoll Society Cemetery with Father Edward McGovern conducting the graveside service.