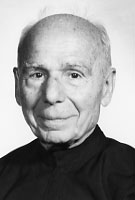 Brother Philip Morini, MM
Born: July 16, 1898
Entered: September 1, 1930
Died: July 7, 1995
Brother Philip Morini died at 8:15 p.m. on Friday, July 7, 1995, at St. Teresa's Residence, Maryknoll, New York, just nine days short of his 97th birthday. He was a Maryknoll Brother for 73 years.
Joseph Vincent Morini was born on the Feast of Our Lady of Mount Carmel, July 16, 1898, in Anagni, Italy, son of Lorenzo Morini and Filomena Sucirini Morini. He had five brothers and two sisters, all now deceased. At an early age, his family emigrated from Italy to Amsterdam, New York. He had six years of elementary studies in the Fifth Ward Public School in Amsterdam and one year of night school at Reynolds Business School where he studied bookkeeping. He was employed for a few years as a textile mill worker in Amsterdam. He became a United States citizen on February 9, 1920. Joseph was accepted as a Maryknoll Brother candidate on May 31, 1922 and took the religious name of Brother Philip. For the next eight years he pronounced annually the Brothers' Promise of Poverty, Chastity and Obedience. After the First General Chapter of the Society in 1929, Brother Philip pronounced his Perpetual Oath on September 1,1930.
Brother Philip was assigned to Maryknoll's St. Francis Xavier Mission in Los Angeles, California in 1923 and served there for four years. Next, he was assigned to Sacred Heart Parish, Maryknoll's new mission in Honolulu, Hawaii, and arrived there with the new Maryknoll pastor, Father William Kress, on February 4, 1927. He served as assistant to the pastor for five years. He enjoyed his work with the youth of the parish and became known city-wide for his excellent work with the Boy Scouts and his athletic wrestling club. He taught wrestling because, as he said: "Everyone should know how to defend himself." He viewed wrestling as a manly profession and an athletic event. On the occasion of his departure from Hawaii, he was presented with a gold medal from the Honolulu Boy Scout Council with his name engraved on it in appreciation for Leadership and Efficiency. Later, during his years in Rome, Brother Philip was frequently visited by successful Hawaiian business men who had been members of his Boy Scout Troop or wrestling teams. Their respect and affection for him were clearly evident.
In June 1932, Brother Philip was assigned to Development work in the United States, briefly in Los Angeles and then for 27 years in San Francisco. It was there, beginning in 1933, that he established an extraordinary record in regaining lapsed Sponsors. He later trained other Developers throughout the United States in the technique he had developed. He left San Francisco in May 1959 and spent terms in the Development Houses in Seattle and Milwaukee.
Brother Philip was assigned to Collegio Maryknoll, Rome, Italy, on June 2, 1961, where he served for almost 20 years. Having been one of the Society's most successful Developers in San Francisco and elsewhere, he kept in contact with hundreds of friends of Maryknoll from the United States. Many of them turned to him, during visits to Rome, to arrange for sightseeing trips, tickets for Papal events and information about the best places to eat and shop in Rome. He made and cultivated innumerable friends for Maryknoll in this way.
Another of his favorite apostolic activities was to obtain Papal Blessings for other Maryknollers and people back home for marriages, anniversaries and special occasions. He was efficient, assiduous and untiring in this service to Maryknoll and Maryknoll's friends. For nearly twenty years he traveled on crowded buses or trains, never taking a taxi, all around Rome and Vatican City, where he was instantly recognized by Swiss Guards and Vatican Officials and had free access. He regularly bought groceries from the Vatican Stores for Collegio Maryknoll.
Brother Philip considered one of the happiest days of his life to be Sunday, July 12, 1970, when Pope Paul VI, in announcing the release of Bishop James Edward Walsh from imprisonment in China in his Angelus Message, used the very words that Brother Philip had used in supplying the Vatican with the details of the Bishop's imprisonment and release. He said: "I was so happy that I could help the Pope prepare his Angelus Message."
Brother Philip was enrolled in the Special Society Unit on January 1, 1982 and resided briefly at Maryknoll Residence, Los Altos, California before returning to Collegio Maryknoll in Rome. fell ill in mid-June 1985 and the following month, he was taken to St. Teresa's Residence at Maryknoll, New York. Prior to his departure, his Superior wrote: "The Rome House will never be the same without him. His presence was an inspiration and a joy for all those who had the privilege to live and work with him." There were many farewell celebrations in his honor.
Wake Services were held in St. Teresa's Residence Chapel and in Our Lady Queen of Apostles Chapel on Tuesday evening, July 11, 1995. Mass of Christian Burial was concelebrated on Wednesday, July 12, 1995, in the Queen of Aposotles Chapel. Fr. Thomas Kirchmyer was Principal Celebrant and Fr. James Nieckarz preached the homily. Burial took place in the Maryknoll Center Cemetery.