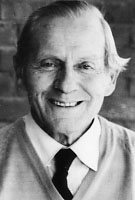 Brother Ralph J. DeBlanc, MM
Born: January 27, 1918
Oath: June 29, 1951
Died: January 25, 1999
Brother Ralph De Blanc died at St. Teresa's Residence the morning of January 25, 1999. He was 81 years old and pronounced his first oath to Maryknoll in 1951.
Brother Ralph was one of three children born to Frank and Noeli Zoe Barras De Blanc in Lockport, Louisiana on January 27, 1918. Frank attended the Convent Grade School and St. Martin High School in Lockport. He obtained a bachelor of arts degree in liberal arts in 1939, and in 1940, a degree in civil engineering from the University of Southwestern Louisiana. On March 26, 1941, Frank enlisted in the U.S. Naval Air Reserves and was commissioned an Ensign on March 10, 1942. He served as a Naval bomber pilot for over four years out of Naval Air Station, Jacksonville, Florida. After his honorable discharge as a Lieutenant on January 5, 1946, he worked in various construction projects and gained much experience in many facets of engineering which proved very valuable for Maryknoll and the Korean mission in the years ahead.
Frank entered the Maryknoll Brothers Novitiate in Akron, Ohio, on December 7, 1949, and pronounced his First Oath of Allegiance to the Society on June 29, 1951. He chose the religious name of Brother Ralph.
Because of his engineering background and construction skills, Brother Ralph was assigned to the construction program and maintenance of the poultry farm at Maryknoll, New York for four years. On May 7, 1954, Brother Ralph was assigned to the Maryknoll Mission in Korea and served his entire mission career of 33 years in the Cheong Ju Diocese. During language school, his Superior wrote that: "Brother Ralph has been an inspiration to all with whom he lives. His application to the study of language leaves nothing to be desired. He will make a good missioner." And so indeed did he become a good missioner. He became fluent enough in the spoken language to work with the Korean workers in the building of many Churches and nursing chapels. He lived in the Cheong Ju Center House and was placed in charge of various construction projects in the mission and was highly praised by the Maryknollers there. His Superior also wrote of him that: "I would say that Brother Ralph is going to be one of our most outstanding Brothers in the mission. He is deeply interested in the work and is very happy about being here."
While on home furlough in 1960, Brother Ralph attended the University of Louisiana to study agriculture and after finishing the courses, returned to Korea. He was placed in charge of the farm and maintenance of the buildings at the Sacred Heart Orphanage in Cheong Ju, which as the need for an orphanage decreased, was converted into a home for the elderly. Brother Ralph again supervised the construction of Sacred Heart Home for the Aged run by the Little Sisters of the Poor and remained responsible for the maintenance of the buildings, land and transportation for the Home. He continued in this position until 1987. The Superior General considered him one of the most outstanding Brothers in Maryknoll. He was well liked in the mission and especially in the Home and he personally expressed his love for his Korean people.
On April 1,1987 at age 69 he was enrolled in the Special Society Unit and continued residence at the Sacred Heart Home until while on home vacation in Louisiana in 1989, he was brought to St. Teresa's Residence for medical attention. Although many persons were aware of Brother Ralph's sincere desire to spend his last years in Sacred Heart Home in Korea and to be buried in the cemetery of the Little Sisters of the Poor, it was judged prudent to assign him to St. Teresa's Residence.
Among his fellow Maryknollers, Brother Ralph was always regarded as a very holy man, a man of deep prayer and loyalty to the Church and to Maryknoll. During the tumultuous period of the 60s Ralph remained faithful to his mission call by focusing his love and energy in serving the Korean people. To all that knew him, Brother Ralph was always a quiet inspiration "to seek first the Kingdom of God." To his fellow Maryknollers and to those he served, he was always the kindest and most charitable of men.
Wake services were held at 7:00 p.m. on Wednesday, January 27, 1999, at St. Teresa's and at 7:30 p.m. at Queen of Apostles Chapel at Maryknoll Center where Father Benedict Zweber officiated and Brother Joseph Ziegler read the biography. Mass of Christian Burial was concelebrated at Queen of Apostles Chapel on Thursday, January 28, at 11:00 a.m. Father Philip Mares was Principal Celebrant and Father Michael Duggan was homilist.
Burial followed at Maryknoll Center Cemetery with Father Richard Callahan conducting the graveside service.