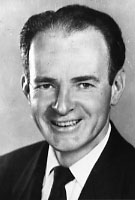 Brother Raymond P. Nihill, MM   
Born: August 5, 1905
Oath: October 29, 1940
Died: November 10, 1992
Brother Raymond P. Nihill died at St. Teresa's Residence, on Tuesday, November 10, 1992, at 12:45 P.M.. He was 87 years of age and a Maryknoll Brother for 62 years.
John Patrick Nihill was born in Boston, Massachusetts, on August 5, 1905, son of John P. and Margaret Nihill. He had an older brother and two sisters, one of whom was Sister M. Alexandrine, C.S.J. His primary and secondary education took place in Boston schools. During 1921 and 1922 he took a course in Business Management at Boston Univerity and then worked as an Assistant Manager of McKesson Robbins Company in Boston. At age 25 he entered the Maryknoll Brothers on September 30, 1929. While in training at Maryknoll, New York, he obtained a Registered Nurse's degree at St. Vincent's Hospital School of Nursing in New York City in 1933. On July 30, 1934, while serving at the Maryknoll Novitiate in Bedford, Massachusetts, he pronounced his First Oath of Obedience and took the Religious name of Brother Raymond.
Brother Raymond was assigned to the Maryknoll Mission in Peng Yang, North Korea in July of 1934 and served in the Saiho Center House as secretary to the Society Superior and regional econome of the Mission for seven years. While in Saiho, he pronounced his Permanent Oath on the Feast of St. Michael Archangel October 29, 1940. As a nurse he was most helpful and solicitous of the Maryknollers in the Mission. He was very efficient and a good organizer. He was granted a home furlough on October 27, 1941 and then on April 13, 1942 he was again assigned to the Maryknoll Novitiate. On April 29, 1947 he was assigned to the newly opened Maryknoll Junior College at Lakewood, New Jersey, for one year and then transferred to the Promotion House on Hewitt Street in Los Angeles, California. His Superior noted that he "does his work well in the Office in the morning and does shopping and banking in the afternoon. He gets along with priests and Brothers who admire him. He is friendly and likes to entertain visiting missioners." During 1951 he obtained a Certificate in Dental Care at Smith Dental Institute; and in 1952 he obtained a Certificate in Hotel Management at the Biltmore Hotel in Los Angeles.
On February 27, 1954, Brother Raymond was again assigned to the Maryknoll Mission in Chong Ju, Korea, where he served for one year at the Saiho House and then transferred to the Maryknoll Center House in Seoul, Korea, on September 26, 1955. He served as secretary to the Regional Superior and procurator for the Mission. He fell ill in May of 1963, which put him on limited service. While in Seoul his Superior wrote of him in July 1967: "Brother Raymond is 62 years old, a true and faithful worker. Presently he is able to carry a full load so long as he is not faced with decision making. He generously helps out every way possible. We need in Korea more Brothers like him." As a side job he taught English to a number of Koreans who gained positions with the United States and Korean Governments. Another Superior wrote of him in 1971: "Brother Ray has been of long and great service to this Region and the men here. He has strong friendships with the best Maryknollers in the Region and has served them – and everyone here – loyally and often in times of crisis and stress."
During a home furlough in December 1971, Brother Raymond was assigned to St. Teresa's Residence at Maryknoll Center in January 1972. He covered the night nurse's shift and also the three to eleven o'clock shift when there was a shortage of nurses. In September 1974 he moved to Maryknoll Residence in Mountain View, California, and was given permission to live outside of the Residence with the Korean family of Y. K. Kim in Santa Ana, Orange County. At his request on January 1, 1976 he was enrolled in the Special Society Unit with residence at St. Teresa's Residence. For as long as he was able he utilized his nursing skills and solicitude with his fellow residents.
Wake services were held on Thursday evening, November 12, at St. Teresa's Chapel, and at Our Lady, Queen of Apostles Chapel at Maryknoll Center, conducted by Father John P. Meehan. A Concelebrated Mass of Christian Burial was offered on Friday, November 13, with Father Martin J. Lowery as Principal Celebrant, and Father Michael A. Duggan as Homilist. Brother Wayne J. Fitzpatrick presided at the Interment in the Maryknoll Center Cemetery.