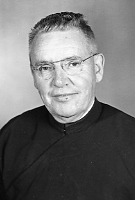 Brother Robert Brooks, MM
Born: March 5, 1908
Oath: September 29, 1946
Died: December 12, 1982
On November 5th word had been received at the Center that Brother Robert had been admitted to El Camino Hospital at Mountain View. From this time until 8:05 (PST) on the 12th of December, when Brother died, the vigil for his life was constant. Since he died on the Feast of Our Lady of Guadalupe, we hope that Brother Robert's death reflects Mary's own Fiat.
While sun was shining on a very beautiful afternoon on March 5th, 1908, Clifford Joseph Brooks — better known to all of us as Brother Robert — was born to Clifford Brooks and Emma Barrett, in Dorchester, Mass. Having completed grammar school, he attended Dorchester High School. While at high school he sold morning and evening newspapers. After graduation he went to work for a wholesale dry goods store as a clerk. Until he entered Maryknoll he engaged mostly in general clerical work.
Clifford first came into contact with Maryknoll through The Field Afar Magazine. During the summer of 1940, he visited Maryknoll at the invitation of a friend, Mr. Walter Lomasney, the brother of Father John Lomasney. At that time he had the opportunity to visit with Bishop James E. Walsh and Father Charles McCarthy. From this visit and his conversation with the two Maryknollers, Clifford decided he wished to join Maryknoll as a Brother. However, his actual entrance did not take place until February, 1945, when he was 36 years old, due to personal health problems and to the fact that he had to support his mother.
Brother Robert's only assignment overseas was to Hawaii in 1947. Previous to this time he served briefly at Los Altos Minor Seminary and at the San Francisco house. In June of 1951 he was assigned to Lakewood and from 1954 to 1963 he helped out at the Philadelphia house, Glen Ellyn and St. Louis. In May, 1963 he arrived at the Center to work in the library. On May 1, 1976 he was assigned to the Special Society Unit and has been in residence at Los Altos since June, 1979.
One of Brother Robert's gifts, among many others, was the fact that he was a very personable individual. His personality and his gift to speak well enabled him to bring a little bit of sunshine into the lives of others. His cheerfulness and openness was appreciated by all. One can hear him saying now: "A spade is a spade."
The Wake Service was held on December 16 in the Seminary Chapel, conducted by Father Eugene Toland and the biography read by Brother Martin Shea. Mass of Christian Burial took place the next day, with Principal Celebrant Father Arthur Brown, with a short reflection by Bro. Thomas Hickey. Burial followed in the Center Cemetery.